Character of Business Changed: Vital Points Raised
2nd May 1947
Page 26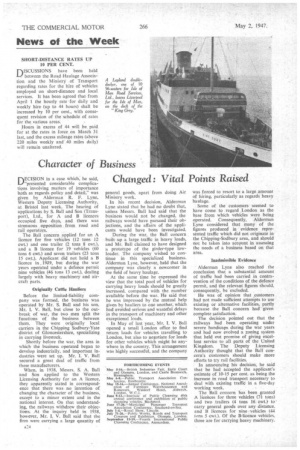 Page 26, 2nd May 1947 —
Character of Business Changed: Vital Points Raised
Close
DCISION in a case which, he said, 1-/"presented considerable complications involving matters of importance both as regards policy and detail," was given by Alderman R. F. Lyne, Western Deputy Licensing Authority, at Bristol last week. The hearing of applications by S. Ball and Son (Transport), Ltd., for A and B licences occupied five days, and there was strenuous opposition from road and rail operators.
The Ball concern applied for an A licence for five vehicles (12 tons 12 cwt.) and one trailer (2 tons 8 cwt.), and a B licence for 19 vehicles (60 tons 6 cwt.) and seven trailers (23 tons 15 cwt.). Applicant did not hold a B licence in ,1939, but during the war years operated under a defence permit nine vehicles (46 tons 13 cwt.), dealing largely with heavy machinery and aircraft parts.
Originally Cattle Hauliers Before the limited-liability company was formed, the business was operated by Mr. S. Ball and his son, Mr. 1. V. Ball, but close to the outbreak of war, the two men split the functions of the business between them, They were originally local carriers in the Chipping Sodbuty-Yate district of Gloucestershire, specializing in carrying livestock.
Shortly before the war, the area in which the business operated began to develop industrially, and important industries were set up. Mr. I. V. Ball secured a great deal of traffic from these manufacturers.
When, in 1938, Messrs. S. A. Ball and Son applied to the Western Licensing Authority for an A licence, they apparently stated in correspondence that there was no intention of changing the character of the business, except to a minor extent and in the national interest. On that understanding, the railways withdrew their objeclions, At the inquiry held in 1938, however, Mr. I. V. Ball said that the firm were carrying a large quantity of general goods, apart from doing Air Ministry work.
In his recent decision, Alderman Lyne stated that he had no doubt that, unless Messrs. Ball had said that the business would not be changed, the railways would have pursued their objections, and the affairs of the applicants would have been investigated.
During the war, the Ball concern built up a large traffic in heavy loads, and Mr. Ball claimed to have designed a prototype of the girder-type lowloader. The company wished to continue in this specialized business. Alderman Lyne, however, held that the company was clearly a newcomer in the field of heavy haulage.
At the same time he expressed the view that the total pool of vehicles for carrying heavy loads should be greatly increased, compared with the number available before the war. He said that he was impressed by the mutual help given by hauliers to one another, which had avoided serious and wasteful delays in the transport of machinery and other exceptional loads.
In May of last year, Mr, I. V. Ball opened a small London office to find return loads for vehicles travelling to London, but also to negotiate for loads for other vehicles which might be anywhere in the country. This arrangement was highly successful, and the company
was forced to resort to a large amount of hiring, particularly as regards heavy haulage.
Some of the customers seemed to have come to regard London as the base from which vehicles were being operated. Consequently, Alderman Lyne considered that many of the figures produced in evidence represented traffic which did not originate in the Chipping-Sodbury area, and should riot be taken into account in assessing the needs of a business based on that area.
Inadmissible Evidence • Alderman Lyne also reached the conclusion that a substantial amount of traffic had been carried in contravention of the conditions of the defence permit, and the relevant figures should, consequently, be excluded.
He was of opinion that .customers had not made sufficient attempts to use existing or alternative facilities, partly because the Ball concern had given complete satisfaction.
The decision pointed out that the railways had been operating under severe handicaps during the war years and had now evolved a zoning system that held out promise of giving excellent service to all parts of the United Kingdom. The Deputy Licensing Authority thought that the Ball concern's customers should make more efforts to try rail facilities.
In announcing his decision, he said that he had accepted the applicant's estimate of 10-15 per cent, as being the increase in road transport necessary to deal with existing traffic in a five-day working week.
The Ball concern has been granted A licences for three vehicles (71 tons) and two trailers (4 tons 16 cwt.) • to carry general goods over any distance, and B licences for nine vehicles (44 tons 5 cwt.). Of the B-licence vehicles, three are for carrying heavy machinery.