Op beats E-regs
2nd March 1985
Page 8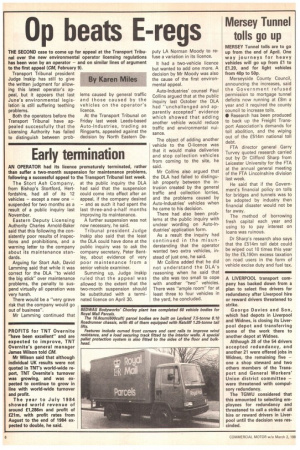 Page 8, 2nd March 1985 —
Op beats E-regs
Close
THE SECOND case to come up for appeal at the Transport Tribunal over the new environmental operator licensing regulations has been won by an operator — and on similar lines of argument to the first appeal (CM, February 9).
Transport Tribunal president Judge Inskip has still to give the written judgment for allowing this latest operator's appeal, but it appears that last June's environmental legislation is still suffering teething problems.
Both the operators before the Transport Tribunal have appealed successfully that the Licensing Authority has failed to distinguish between prob puty LA Norman Moody to refuse a variation in its licence.
It had a two-vehicle licence but wanted to add one more. A decision by Mr Moody was also the cause of the first environmental appeal.
Auto-Industries' counsel Paul Collins argued that at the public inquiry last October the DLA had "unchallenged and apparently accepted" evidence which showed that adding another vehicle would reduce traffic and environmental nuisance.
The object of adding another vehicle to the 0-licence was that it would make deliveries and stop collection vehicles from coming to the site, he said.
Mr Collins also argued that the DLA had failed to distinguish properly between the intrusion created by the general traffic and collection lorries, and the problems caused by Auto-Industries' vehicles when he came to his decision.
There had also been problems at the public inquiry with unclear wording on Auto-Industries' application form.
As a result the inquiry had continued in the misunderstanding that the operator wanted two extra vehicles, instead of just one, he said.
Mr Collins added that he did not understand the DLA's reasoning when he said that the site was too small to cope with another "two" vehicles. There was "ample room" for at least three to four vehicles in the yard, he concluded.