Mersey Tunnel tolls go up
2nd March 1985
Page 8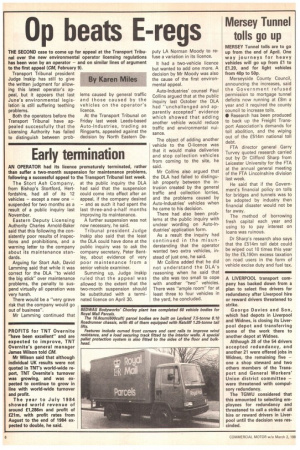 Page 8, 2nd March 1985 —
Mersey Tunnel tolls go up
Close
MERSEY Tunnel tolls are to go up from the end of April. One way journeys for heavy vehicles will go up from £1 to £1.20, and for light vehicles from 40p to 50p.
Merseyside County Council, announcing the increases, said the Government refused permission to mortgage tunnel deficits now running at fElm a year and it required the county council to increase tolls.
• Research has been produced to back up the Freight Transport Association's demands for toll abolition, and the wiping out of the £514m national toll debt.
FTA director general Garry Turvey quoted research carried out by Dr Clifford Sharp from Leicester University for the FTA at the annual general meeting of the FTA Lincolnshire division last week.
He said that if the Government's financial policy on tolls for bridges and tunnels was to be adopted by industry then financial disaster would not be far away.
The method of borrowing fresh capital each year and using to to pay interest on loans was ruinous.
Dr Sharp's research also says that the £514m toll debt could be wiped out 10 times this year by the £5,190m excess taxation on road users in the form of vehicle excise duty and fuel tax.