No shares for ODs
2nd March 1985
Page 7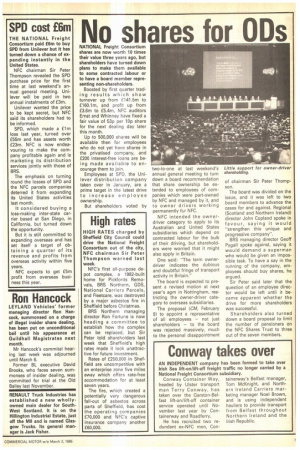 Page 7, 2nd March 1985 —
No shares for ODs
Close
NATIONAL Freight Consortium shares are now worth 10 times their value three years ago, but shareholders have turned down plans to make them available to some contracted labour or to have a board member representing non-shareholders.
Boosted by first quarter trading results which show turnover up from 1141.5m to £160.1m, and profit up from E3.6m to £5.4m, NFC auditors Ernst and Whinney have fixed a fair value of 53p per 10p share for the next dealing day later this month.
Up to 500,000 shares will be available then for employees who do not yet have shares in the privatised company, and £200 interest-free loans are being made available to encourage them to join.
Employees at SPD, the Unilever distribution company taken over in January, are a prime target in the latest drive to increase employee ownership.
But shareholders voted by two-to-one at last weekend's annual general meeting to turn down a board recommendation that share ownership be extended to employees of companies which were part-owned by NEC and managed by it, and to owner drivers working permanently for NFC.
NFC intended the ownerdriver category to apply to its Australian and United States subsidiaries which depend on contracted labour for the bulk of their driving, but shareholders were worried that it might also apply in Britain, One said: "The term ownerdriver indicates the dubious and doubtful fringe of transport activity in Britain."
The board is expected to present a revised motion at next year's agm in Nottingham, restricting the owner-driver category to overseas subsidiaries.
The proposal (CM, February 9) to appoint a representative of all employees — not just shareholders — to the board was rejected massively, much to the personal disappointment
of chairman Sir Peter Thompson.
The board was divided on the issue, and it was left to two board members to advance the cases for and against. Regional (Scotland and Northern Ireland) director John Copland spoke in favour, saying it would "strengthen this unique and progressive company".
BRS managing director Geoff Pygall spoke against, saying it would demand a superman who would be given an impossible task. To have a say in the running of the company, employees should buy shares, he argued.
Sir Peter said later that the question of an employee director would be left until it became apparent whether the drive for more shareholders was successful.
Shareholders also turned down a board proposal to limit the number of pensioners on the NFC Shares Trust to three out of the seven members.