High rates
2nd March 1985
Page 7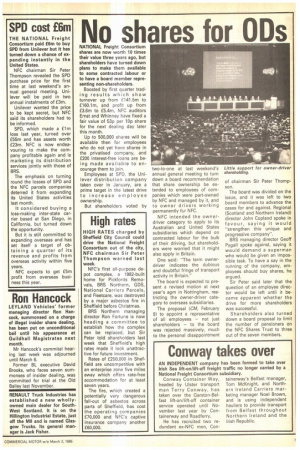 Page 7, 2nd March 1985 —
High rates
Close
HIGH RATES charged by Sheffield City Council could drive the National Freight Consortium out of the city, NFC chairman Sir Peter Thompson warned last week.
NFC's first all-purpose depot complex, a 1982-built home for Pickfords Removals, BRS Northern, GDS, National Carriers Parcels, and Fleetcare, was destroyed by a major asbestos fire in Sheffield before Christmas.
BRS Northern managing director Ron Fortune is now heading a committee to establish how the complex can be replaced, but Sir Peter told shareholders last week that Sheffield's high rates made it look unattractive for future investment.
Rates of £250,000 in Sheffield are uncompetitive with an enterprise zone five miles away which offers rate-free accommodation for at least seven years.
The fire, which created a potentially very dangerous fall-out of asbestos across parts of Sheffield, has cost the operating companies £70,000 and NFC's captive insurance company another £60,000.