Mine costs denials
2nd March 1985
Page 6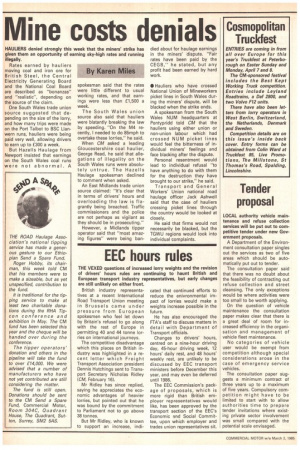 Page 6, 2nd March 1985 —
Mine costs denials
Close
HAULIERS denied strongly this week that the given them an opportunity of earning sky-high illegally. miners' strike has rates and running Rates earned by hauliers moving coal and iron ore for British Steel, the Central Electricity Generating Board and the National Coal Board are described as "bonanzas" and "realistic", depending on the source of the claim.
One South Wales trade union source suggested that depending on the size of the lorry, and how many trips were made on the Port Talbot to BSC Llanwern runs, hauliers were being paid very well, allowing drivers to earn up to £300 a week.
But Hazells Haulage from Newport insisted that earnings on the South Wales coal runs were not abnormal. A spokesman said that the rates were little different to usual working rates, and that earnings were less than £1,500 a week.
The South Wales union source also said that hauliers were blatantly breaking the law by speeding. "On the M4 recently, I needed to do 85mph to overtake these lorries," he said.
When CM asked a leading Gloucestershire coal haulier, George Read, he said that allegations of illegality on the South Wales runs were absolutely untrue. The Hazells Haulage spokesman declined to comment when asked.
An East Midlands trade union source claimed: "It's clear that in terms of drivers' hours and overloading the law is flagrantly being breached. Traffic commissioners and the police are not perhaps as vigilant as they should be in prosecuting."
However, a Midlands tipper operator said that "most amazing figures" were being ban
died about for haulage earnings in the miners' dispute. "Fair rates have been paid by the CEGB," he stated, but any profit had been earned by hard work.
• Hauliers who have crossed National Union of Mineworkers picket lines in South Wales during the miners' dispute, will be blacked when the strike ends.
A spokesman from the South Wales NUM headquarters at Pontypridd told CM that the hauliers using either union or non-union labour which had crossed NUM picket lines would feel the bitterness of individual miners' feelings and face blacking after the dispute.
Personal resentment would lead to individual refusal "to have anything to do with them for the destruction they have brought to our strike," he said.
Transport and General Workers' Union national road haulage officer Jack Ashwell said that the case of hauliers crossing picket lines through the country would be looked at closely.
He said that firms would not necessarily be blacked, but the TGWU regions would look into individual complaints.