I ETErce0=(L) DE) VIP) [YrY by The Hawk
2nd March 1985
Page 54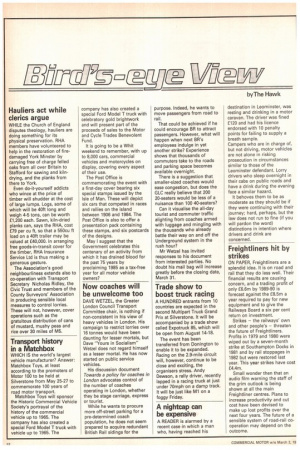 Page 54, 2nd March 1985 —
I ETErce0=(L) DE) VIP) [YrY by The Hawk
Close
Keywords :
Manufacturing
,
Technology
,
Business
,
Matchbox
,
Mattel
,
Freightliner Trucks
,
Truck
,
Train
,
Ford Motor Company
,
Commercial Vehicle
,
Vehicle
Hauliers act while clerics argue
WHILE the Church of England disputes theology, hauliers are doing something for its physical preservation. RHA members have volunteered to help in the restoration of firedamaged York Minster by carrying free of charge felled oaks from all over Britain to Stafford for sawing and kilndrying, and the planks from there to York.
Even do-it-yourself addicts who wince at the price of timber will shudder at the cost of large lumps. Logs, some of which will be 40ft long and weigh 4-5 tons, can be worth £1,200 each. Sawn, kiln-dried planks can, says the RHA, cost £79 per cu ft, so that a 550cu ft load on a 40ft trailer may be valued at £40,000. In arranging free goods-in-transit cover for the timber, RHA Insurance Service Ltd is thus making a generous gesture.
The Association's good neighbourliness extends also to co-operation with Transport Secretary Nicholas Ridley, the Civic Trust and members of the County Surveyors' Association in producing sensible local measures to control lorries. These will not, however, cover operations such as the gratuitous distribution of cans of mustard, mushy peas and rice over 30 miles of M5.
Transport history in a Matchbox
WHICH IS the world's largest vehicle manufacturer? Answer: Matchbox Toys, at least according to the promoters of Motor 100 to be held at Silverstone from May 25-27 to commemorate 100 years of road motor transport.
Matchbox Toys will sponsor the Historic Commercial Vehicle Society's portrayal of the history of the commercial vehicle up to 1965. The company has also created a special Ford Model T truck with vehicle up to 1965. The company has also created a special Ford Model T truck with celebratory gold brightwork and will present part of the proceeds of sales to the Motor and Cycle Trades Benevolent Fund.
It is going to be a Whit weekend to remember, with up to 8,000 cars, commercial vehicles and motorcycles on display, covering every aspect of their use.
The Post Office is commemorating the event with a first-day cover bearing six special stamps issued by the Isle of Man. These will depict six cars that competed in races and rallies on the island between 1906 and 1984. The Post Office is also to offer a presentation pack containing these stamps, and six postcards of the designs.
May I suggest that the Government celebrates this centenary of an activity from which it has drained blood for the past 75 years by proclaiming 1985 as a tax-free year for all motor vehicle owners?
_ _ Now coaches will be unwelcome too
DAVE WETZEL, the Greater London Council Transport Committee chair, is nothing if non-consistent in his view of heavy vehicles in London. His campaign to restrict lorries over 16 tonnes would have been daunting for lesser mortals, but Dave "Yours in Socialism" Wetzel does not regard himself as a lesser mortal. He has now started on public service vehicles.
His discussion document Towards a policy for coaches in London advocates control of the number of coaches operating in London, whether they be stage carriage, express or tourist.
While he wants to procure more off-street parking for a pre-determined coach population, he does not seem prepared to acquire redundant British Rail sidings for the purpose. Indeed, he wants to move passengers from road to rail.
That could be achieved if he could encourage BR to attract passengers. However, what will happen when next BR's employees indulge in yet another strike? Experience shows that thousands of commuters take to the roads and parking space becomes available overnight.
There is a suggestion that smaller-sized coaches would ease congestion, but does the GLC really believe that 200 20-seaters would be less of a nuisance than 100 40-seaters?
Can it visualise the all-day tourist and commuter traffic alighting from coaches armed with luggage and mingling with the thousands who already battle their way on and off the Underground system in the rush hour?
Mr Wetzel has invited responses to his document from interested parties. No doubt his mail bag will increase greatly before the closing date, March 31.
Trade show to boost truck racing
A HUNDRED entrants from 10 countries are expected in the second Multipart Truck Grand Prix at Silverstone. It will be accompanied by a trade show called Expotruck 85, which will be open from August 14-18.
The event has been transferred from Donington to enable it to be expanded. Racing on the 2.9-mile circuit will, however, continue to be close and exciting, the organisers stress. Andy Dewson, a rally driver, recently lapped in a racing truck at just under 70mph on a damp track. It will be just like MI on a foggy Friday.
A nightcap can be expensive
A READER is alarmed by a recent case in which a man who, having reached his destination in Leominster, was resting and drinking in a motor caravan. The driver was fined £120 and had his licence endorsed with 10 penalty points for failing to supply a breath sample.
Campers who are in charge of, but not driving, motor vehicles are not alone in risking prosecution in circumstances similar to those of the Leominster defendant. Lorry drivers who sleep overnight in their cabs on public roads and have a drink during the evening face a similar hazard.
It behoves them to be as moderate as they should be if they were continuing with their journey; hard, perhaps, but the law does not run to fine (if you will pardon the word) distinctions in intention where drivers and drink are concerned.
Freightliners hit by strikes
ON PAPER, Freightliners are a splendid idea. It is on road and rail that they do less well. Their financial results are causing concern, and a trading profit of only £6.6m by 1989-90 is forecast against the £8.5m a year required to pay for new equipment and to give the Railways Board a six per cent return on investment.
Strikes — the railways' own and other people's — threaten the future of Freightliners. Profits in 1979 and 1980 were wiped out by a seven-month strike at Southampton Docks in 1981 and by rail stoppages in 1982 but were restored last year. This year strikes have cost £4.4m.
Small wonder then that an audio film warning the staff of the grim outlook is being shown at all the main Freightliner centres. Plans to increase productivity and cut cost have been devised to make up lost profits over the next four years. The future of a sensible system of road-rail cooperation may depend on the outcome.