NFC loss maker may go
2nd March 1985
Page 5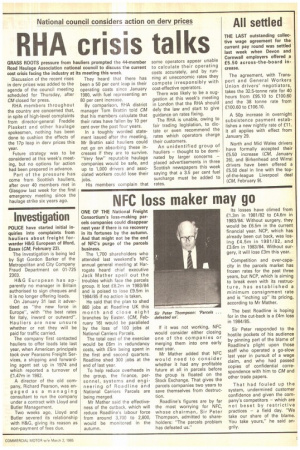 Page 5, 2nd March 1985 —
NFC loss maker may go
Close
ONE OF THE National Freight Consortium's loss-making parcels companies could disappear nest year if there is no recovery in its fortunes by the autumn. And that might not be the end of NFC's purge of the parcels business.
The 1,700 shareholders who attended last weekend's NFC annual general meeting at Harrogate heard chief executive Jack Mather spell out the troubles which face the parcels group. It lost £8.2m in 1983/84 and is poised to lose £9.5m in 1984/85 if no action is taken.
He said that the plan to shed 860 jobs at Roadline UK this month and close eight branches by Easter. (CM, February 16) would be paralleled by the loss of 100 jobs at National Carriers Parcels.
The total cost of the exercise would be £6m in redundancy costs, with £5m being spent in the first and second quarters. Roadline shed 300 jobs at the end of last year.
To help reduce overheads in the group, the finance, personnel, systems and engineering of Roadline and National Carriers Parcels are being merged.
Mr Mather said the effectiveness of the cutback, which will reduce Roadline's labour force from around 3,700 to 2,800, would be monitored in the autumn. If it was not working, NFC would consider either closing one of the companies or merging them into one early next year.
Mr Mather added that NFC would need to consider whether it had any profitable future at all in parcels before the group is floated on the Stock Exchange. That gives the parcels companies two years to save themselves from destruction.
Roadline's figures are by far the most worrying for NFC, whose chairman, Sir Peter Thompson, admitted to shareholders: "The parcels problem has defeated us." Its losses have climed from £1.3m in 1981/82 to £4.6m in 1983/84: Without surgery, they would be £6.5m in the current financial year. NCP, which has already been cut back, was losing £4.5m in 1981/82, and £3.6m in 1983/84. Without surgery, it will lose £3m this year.
Competition and over-capacity in the parcels market has frozen rates for the past three years, but NCP, which is aiming to break even with its restructure, has established a minimum consignment rate and is "inching up" its pricing, according to Mr Mather.
The best Roadline is hoping for in the cut-back is a £4m loss in 1984/85.
Sir Peter responded to the hostile pockets of his audience by pinning part of the blame of Roadline's plight upon those staff who operated a go-slow last year in pursuit of a wage claim, and who had passed copies of confidential correspondence with him to CM and other trade papers.
That had fouled up the system, undermined customer confidence and given the company's competitors — which are not beset by restrictive practices — a field day. "We take our share of the blame. You take yours," he said angrily.