SAF's UK market hopes ride on air
2nd March 1985
Page 40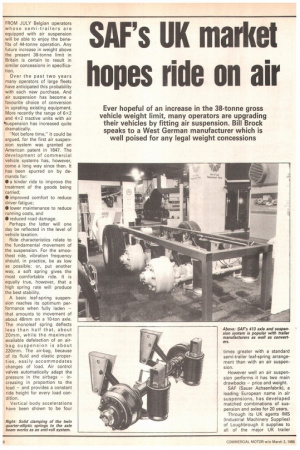 Page 41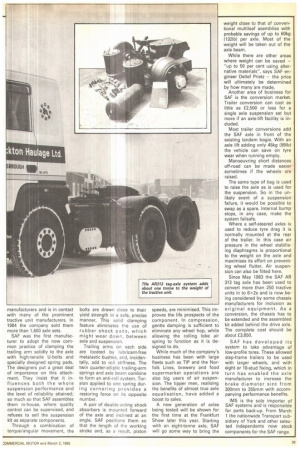 Page 40, 2nd March 1985 —
SAF's UK market hopes ride on air
Close
Keywords :
Articulated Vehicles
,
Axle
,
Suspension
,
Trailing Arm
,
Air Suspension
,
Semi-trailer Truck
,
Leaf Spring
,
Bogie
,
Trailer
,
Sway Bar
,
Live Axle
,
Beam Axle
Ever hopeful of an increase in the 38-tonne gross vehicle weight limit, many operators are upgrading their vehicles by fitting air suspension. Bill Brock speaks to a West German manufacturer which is well poised for any legal weight concessions
FROM JULY Belgian operators whose semi-trailers are equipped with air suspension will be able to enjoy the benefits of 44-tonne operation. Any future increase in weight above the present 38-tonne limit in Britain is certain to result in similar concessions in specification.
Over the past two years many operators of large fleets have anticipated this probability with each new purchase. And air suspension has become a favourite choice of conversion in uprating existing equipment. More recently the range of 6x2 and 4x2 tractive units with air °suspension has increased quite dramatically.
"Not before time," it could be argued, for the first air suspension system was granted an American patent in 1847. The development of commercial vehicle systems has, however, come a long way since then. It has been spurred on by demands for: • a kinder ride to improve the treatment of the goods being carried; • improved comfort to reduce driver fatigue; • lower maintenance to reduce running costs, and • reduced road damage.
Perhaps the latter will one day be reflected in the level of vehicle taxation.
Ride characteristics relate to the fundamental movement of the suspension. For the smoothest ride, vibration frequency should, in practice, be as low as possible; or, put another way, a soft spring gives the most comfortable ride. It is equally true, however, that a high spring rate will produce the best stability.
A basic leaf-spring suspension reaches its optimum performance when fully laden — that amounts to movement of about 48mm on a 10-ton axle. The monoleaf spring deflects less than half that, about 20mm, while the maximum available defelection of an airbag suspension is about 220mm. The air-bag, because of its fluid and elastic properties, easily accommodates changes of load. Air control valves automatically adapt the pressure in the airbags — increasing in proportion to the load — and provides a constant ride height for every load condition.
Vertical body accelerations have been shown to be four times greater with a standard semi-trailer leaf-spring arrangement than with an air suspension.
However well an air suspension performs it has two main drawbacks — price and weight.
SAF (Sauer Achsenfabrik), a leading European name in air suspensions, has developed matched combinations of suspension and axles for 20 years.
Through its UK agents IMS (Industrial Machinery Supplies) of Loughbrough it supplies to all of the major UK trailer manufacturers and is in contact with many of the prominent tractive unit manufacturers. In 1984 the company sold them more than 1,600 axle sets.
SAF was the first manufacturer to adopt the now common practice of clamping the trailing arm solidly to the axle with high-tensile U-bolts and specially designed spring pads. The designers put a great deal of importance on this attachment. They insist that it influences both the whole suspension performance and the level of reliability attained; so much so that SAF assembles them in-house, where quality control can be supervised, and refuses to sell the suspension kit as separate components.
Through a combination of torque/angular movement, the bolts are drawn close to their yield strength in a sate, precise manner. This solid clamping feature eliminates the use of rubber shock pads, which might wear down, between axle and suspension.
Trailing arms on each side are located by lubricant-free rnetalastic bushes, and, incidentally, add to roll stiffness. The twin quarter-elliptic trailing-arm springs and axle beam combine to form an anti-roll system. Torsion applied to one spring during cornering provides a restoring force on its opposite number.
A pair of double-acting shock absorbers is mounted forward of the axle and inclined at an angle. SAF positions them so that the length of the working stroke and, as a result, piston speeds, are minimised. This improves the life prospects of the component. In compression, gentle damping is sufficient to eliminate any wheel hop, while allowing the rolling lobe air spring to function as it is designed to do.
While much of the company's business has been with large fleets such as TIP and the Norfolk Lines, brewery and food supermarket operations are also big users of air suspension. The tipper men, realising the benefits of almost true axle equalisation, have added a boost to sales.
A new generation of axles being tested will be shown for the first time at the Frankfurt Show later this year. Starting with an eight-tonne axle, SAF will go some way to bring the weight close to that of conventional multileaf asemblies with probable savings of up to 60kg (1321b) per axle. Most of the weight will be taken out of the axle beam.
While there are other areas where weight can be saved — "up to 50 per cent using alternative materials", says SAF engineer Detlef Prietz — the price will ultimately be determined by how many are made.
Another area of business for SAF is the conversion market.
Trailer conversion can cost as little as £2,500 or less for a single axle suspension set but more if an axle-lift facility is included.
Most trailer conversions add the SAF axle in front of the existing tandem bogie. With an axle lift adding only 45kg (991b) the vehicle can save on tyre wear when running empty.
Manoeuvring short distances off-road can be made easier sometimes if the wheels are raised.
The same type of bag is used to raise the axle as is used for
the suspension. So in the un
likely event of a suspension failure, it would be possible to swap as a spare. Internal bump stops, in any case, make the system failsafe.
Where a self-steered axles is used to reduce tyre drag it is normally mounted at the rear of the trailer. In this case air pressure in the wheel stabilis ing diaphragms is proportional to the weight on the axle and maximises its effort on preventing wheel flutter. Air suspension can also be fitted here.
Since May 1983 the SAF AR 313 tag axle has been used to convert more than 250 tractive units in to 6x2s and is now being considered by some chassis manufacturers for inclusion as original equipment. As a conversion, the chassis has to be extended and the assembled kit added behind the drive axle. The complete cost should be about £3,850.
SAF has developed its system to take advantage of low-profile tyres. These allowed step-frame trailers to be used with larger wheels, and with eight or 10-stud fixing, which in turn has enabled the axle manufacturer to increase the brake diameter size from 300mm to 355mm with accompanying performance benefits.
IMS is the sole importer of SAF systems and is responsible for parts back-up. From March 1 the nationwide Transpart subsidiary of York and other selected independents now stock components for the SAF range.