Editorial A diet for the consortium
2nd March 1985
Page 4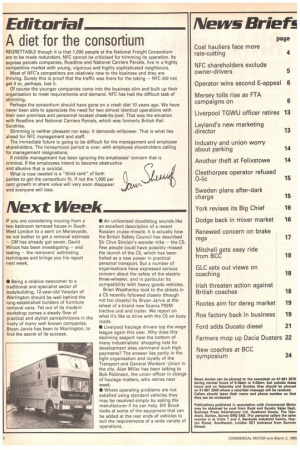 Page 4, 2nd March 1985 —
Editorial A diet for the consortium
Close
REGRETTABLE though it is that 1,000 people at the National Freight Consortium are to be made redundant, NEC cannot be criticised for trimming its operation. Its express parcels companies, Roadline and National Carriers Parcels, live in a highly competitive market with young, vigorous and highly sophisticated neighbours.
Most of NFC's competitors are relatively new to the business and they are thriving. Surely this is proof that the traffic was there for the taking — NFC did not get it or, perhaps, lost it.
Of course the younger companies came into the business slim and built up their organisation to meet requirements and demand. NFC has had the difficult task of slimming.
Perhaps the consortium should have gone on a crash diet 10 years ago. We have never been able to appreciate the need for two almost identical operations with their own premises and personnel located cheek-by-jowl. That was the situation with Roadline and National Carriers Parcels, which was formerly British Rail Sundries.
Slimming is neither pleasant nor easy. It demands willpower, That is what lies ahead for NFC management and staff.
The immediate future is going to be difficult for the management and employee shareholders. The honeymoon period is over, with employee shareholders calling for management resignations.
If middle management has been ignoring the employees' concern that is criminal, If the employees intend to become obstructive and abusive that is suicidal.
What is now needed is a "think tank" of both parties to get the consortium fit. If not the 1,000 per cent growth in share value will very soon disappear and everyone will lose.