Don takes brakes off
2nd March 1985
Page 32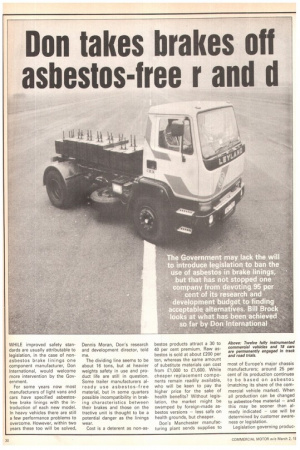 Page 33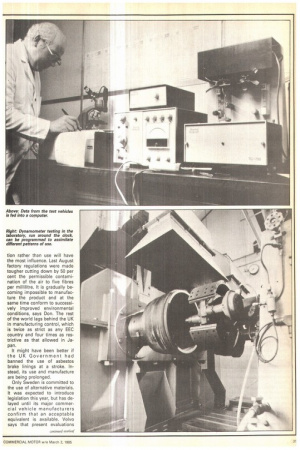 Page 34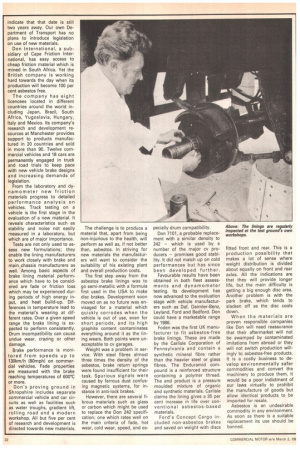 Page 32, 2nd March 1985 —
Don takes brakes off
Close
Keywords :
Mechanical Engineering
,
Brakes
,
Engineering
,
Technology
,
Brake Lining
,
Disc Brake
,
Asbestos
,
Vehicle Brake
,
Railway Brake
,
Brake
,
Parking Brake
,
Dynamometer
asbestos-free r and d
WHILE improved safety standards are usually attributable to legislation, in the case of nonasbestos brake linings one component manufacturer, Don International, would welcome more intervention by the Government.
For some years now most manufacturers of light vans and cars have specified asbestosfree brake linings with the introduction of each new model. In heavy vehicles there are still a few performance problems to overcome. However, within two years these too will be solved, Dennis Moran, Don's research and development director, told me.
The dividing line seems to be about 16 tons, but at heavier weights safety in use and product life are still in question. Some trailer manufacturers already use asbestos-free material, but in some quarters possible incompatibility in braking characteristics between their brakes and those on the tractive unit is thought to be a potential danger as the linings wear.
Cost is a deterent as non-as
bestos products attract a 30 to 40 per cent premium. Raw asbestos is sold at about £200 per ton, whereas the same amount of substitute materials can cost from E1,000 to £1,600. While cheaper replacement components remain readily available, who will be keen to pay the higher price for the sake of health benefits? Without legislation, the market might be swamped by foreign-made asbestos versions — less safe on health grounds, but cheaper.
Don's Manchester manufacturing plant sends supplies to most of Europe's major chassis manufacturers; around 25 per cent of its production continues to be based on asbesto:, (matching its share of the commercial vehicle market). When all production can be changed to asbestos-free material — and this may be sooner than already indicated — use will be determined by customer awareness or legislation.
Legislation governing produc tion rather than use will have the most influence. Last August factory regulations were made tougher cutting down by 50 per cent the permissible contamination of the air to five fibres per millilitre. It is gradually becoming impossible to manufacture the product and at the same time conform to successively improved environmental conditions, says Don. The rest of the world lags behind the UK in manufacturing control, which is twice as strict as any EEC country and four times as restrictive as that allowed in Japan.
It might have been better if the UK Government had banned the use of asbestos brake linings at a stroke. Instead, its use and manufacture are being prolonged.
Only Sweden is committed to the use of alternative materials. It was expected to introduce legislation this year, but has delayed until its major commercial vehicle manufacturers confirm that an acceptable equivalent is available. Volvo says that present evaluations indicate that that date is still two years away. Our own Department of Transport has no plans to introduce legislation on use of new materials.
Don International, a subsidiary of Cape Friction International, has easy access to cheap friction material which is mined in South Africa. Yet the British company is working hard towards the day when its production will become 100 per cent asbestos free.
The company has eight licencees located in different countries around the world including Japan, Brazil, South Africa, Yugoslavia, Hungary, Italy and Mexico. Its company's research and development resources at Manchester provides support to products manufactured in 20 countries and sold in more than 90. Twelve commercial vehicles and 18 cars are permanently engaged in truck and road trials to keep pace with new vehicle brake designs and increasing demands of legislation.
From the laboratory and dynamometer new friction materials progress to detailed performance analysis on vehicles. Track testing on a vehicle is the first stage in the evaluation of a new material. It reveals characteristics such as stability and noise not easily measured in a laboratory, but which are of major importance.
Tests are not only used to assess new formulations; they enable the lining manufacturers to work closely with brake and main chassis manufacturers as well. Among basic aspects of brake lining material performance which have to be considered are fade or friction loss which may be experienced during periods of high energy input, and heat build-up. Differences in temperature lead to the material's wearing at different rates. Over a given speed range the brake lining is expected to perform n consistently. Drum incompatibility can cause undue wear, crazing or other damage.
Brake performance is monitored from speeds up to 130km/h (80mph) on commercial vehicles. Fade properties are measured with the brake reaching temperatures of 600°C or more.
Don's proving ground in Shropshire includes separate commercial vehicle and car circuits as well as facilities such as water troughs, gradient lift, rolling road and a modern workshop. All but five per cent of research and development is directed towards new materials. The challenge is to produce a material that, apart from being non-injurious to the health, will perform as well as, if not better than, asbestos. In striving for new materials the manufacturers will want to consider the suitability of his existing plant and overall production costs.
The first step away from the asbestos brake linings was to go semi-metallic with a formula first used in the USA to make disc brakes. Development soon moved on as no future was envisaged for a material which quickly corrodes when the vehicle is out of use, even for short periods, and its high graphite content contaminates everything around it as the lining wears. Both points were unacceptable to cv garages.
Weight was a problem in service. With steel fibres almost three times the density of the asbestos, brake return springs were found insufficient for their task. Spurious signals were caused by ferrous dust confusing magnetic systems, for instance in anti-lock brakes.
However, there are several fibrous materials such as glass or carbon which might be used to replace the Don 242 specification; one which rates well on the main criteria of fade, hot wear, cold wear, speed, and es pecially drum compatibility.
Don 7101, a probable replacement with a similar density to 242 — which is used by a number of the major cv producers — promises good stability. It did not match up on cold performances but has since been developed further.
Favourable results have been obtained in both fleet assessments and dynamometer testing. Its development has now advanced to the evaluation stage with vehicle manufacturers such as Daf, Daimler-Benz, Leyland, Ford and Bedford. Don could have a marketable range by 1986.
Foden was the first UK manufacturer to fit asbestos-free brake linings. These are made by the Carlisle Corporation of Pennsylvania and contain a synthetic mineral fibre rather than the heavier steel or glass fibres. The Enduramid compound is a reinforced structure containing a polymer thread. The end product is a pressure moulded mixture of organic and synthetic materials. Carlisle claims the lining gives a 35 per cent increase in life over conventional asbestos-based materials.
Ford's Concept Cargo included non-asbestos brakes and saved on weight with discs fitted front and rear. This is a production possibility that makes a lot of sense where weight distribution is divided about equally on front and rear axles. All the indications are that they will provide longer life, but the main difficulty is getting a big enough disc area. Another problem is with the park brake, which tends to slacken off as the disc cools down, When the materials are proven responsible companies like Don will need reassurance that their aftermarket will not be swamped by contaminated imitations from abroad or they will not switch production willingly to asbestos-free products. It is a costly business to develop environmentally safer commodities and convert the machinery to produce them. It would be a poor indictment of our laws virtually to prohibit the manufacture of goods but allow identical products to be imported for resale.
Asbestos is an undesirable commodity in any environment. As soon as there is a suitable replacement its use should be banned.