Farmers mop up
2nd March 1985
Page 24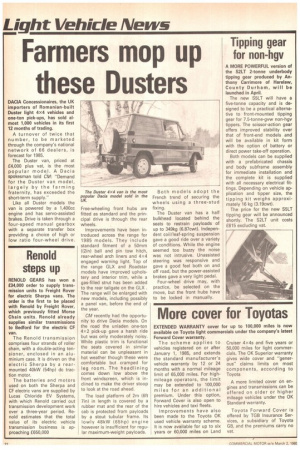 Page 24, 2nd March 1985 —
Farmers mop up
Close
these Dusters DACIA Concessionaires, the UK importers of Romanian-built Duster light 4X4 vehicles and one-ton pick-ups, has sold almost 1,000 vehicles in its first 12 months of trading.
A turnover of twice that number, to be marketed through the company's national network of 66 dealers, is forecast for 1985.
The Duster van, priced at £4,000 plus vat, is the most popular model. A Dacia spokesman told CM: "Demand for the Duster van model, largely by the farming fraternity, has exceeded the short-term supply."
Like all Duster models the van is powered by a 1,400cc engine and has servo-assisted brakes. Drive is taken through a four-speed manual gearbox with a separate transfer box providing a choice of high or low ratio four-wheel drive. Free-wheeling front hubs are fitted as standard and the principal drive is through the rear wheels.
Improvements have been introduced across the range for 1985 models. They include standard fitment of a 50mm ff2in) ball and pin tow hitch, rear-wheel arch liners and 4x4 engaged warning light. Top of the range GLX and Roadstar models have improved upholstery and interior trim, while a gas-filled strut has been added to the rear tailgate on the GLX The range will be enlarged with new models, including possibly a panel van, before the end of the year.
CM recently had the opportunity to drive Dacia models. On the road the unladen one-ton 4x2 pick-up gave a harsh ride but was only moderately noisy. While plastic trim is functional the seats covered in similar material can be unpleasant in hot weather though these were comfortable but cramped for leg room. The headlining comes down low above the front windscreen, which is inclined to make the driver stoop to look at the road ahead.
The load platform of 2m (6ft 7in) in length is covered by a rubber mat and the rear of the cab is protected from payloads by a stout tubular frame. Its lowly 48kW (65hp) engine however is insufficient for regular maximum-weight payloads. Both models adopt the French trend of securing the wheels using a three-stud fixing.
The Duster van has a half bulkhead located behind the seats to restrain payloads of up to 349kg (6.87cw1). Independent coil/leaf-spring suspension gave a good ride over a variety of conditions. While the engine seemed too buzzy the noise was not intrusive. Unassisted steering was responsive and gave a good feel both on and off road, but the power-assisted brakes gave a very light pedal.
Four-wheel drive may, with practice, be selected on the move, but the front hubs have to be locked in manually.