Dodge 6x4 mixer for UK
2nd March 1985
Page 18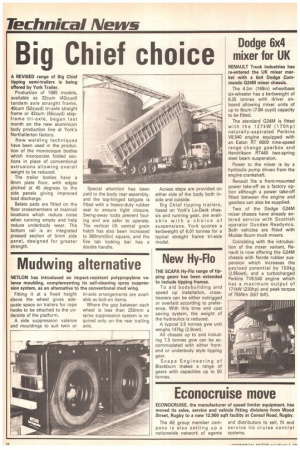 Page 18, 2nd March 1985 —
Dodge 6x4 mixer for UK
Close
RENAULT Truck Industries has re-entered the UK mixer market with a 6x4 Dodge Commando G24M mixer chassis.
The 4.3m (169in) wheelbase six-wheeler has a kerbweight of 6.35 tonnes with driver onboard allowing mixer units of up to 6cum (7.84 cuyd) capacity to be fitted.
The standard G24M is fitted with the 1 2 7kW (1 7 Ohp) naturally-aspirated Perkins V8.540 engine equipped with an Eaton RT 6609 nine-speed range change gearbox and Hendrikson RT440 two-spring steel beam suspension.
Power to the mixer is by a hydraulic pump driven from the engine crankshaft.
Renault fits a front-mounted power take-off as a factory option although a power take-off fitted between the engine and gearbox can also be supplied.
Two of the Dodge G24M mixer chassis have already entered service with Scottish operator Dundee Readymix. Both vehicles are fitted with Mulder ficum truck mixers.
Coinciding with the introduction of the mixer variant, Renault is now offering the G24M chassis with Norde rubber suspension which increases the payload potential by 150kg (2.95cwt), and a turbocharged Perkins 1V8.540 engine which has a maximum output of 171kW (230hp) and peak torque of 755Nm (557 lbft).