Turned down twice
2nd March 1985
Page 17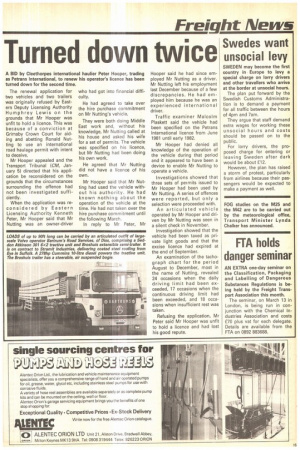 Page 17, 2nd March 1985 —
Turned down twice
Close
A BID by Cleethorpes international haulier Peter Hooper, trading as Petrans International, to renew his operator's licence has been turned down for the second time.
The renewal application for two vehicles and two trailers was originally refused by Eastern Deputy Licensing Authority Humphrey Lewis on the grounds that Mr Hooper was unfit to hold a licence. This was because of a conviction at Grimsby Crown Court for aiding and abetting Ronald Nutting to use an international road haulage permit with intent to deceive.
Mr Hooper appealed and the Transport Tribunal (CM, January 5) directed that his application be reconsidered on the grounds that the circumstances surrounding the offence had not been investigated sufficiently.
When the application was reco nsidered by Eastern Licensing Authority Kenneth Peter, Mr Hooper said that Mr Nutting was an owner-driver who had got into financial difficulty.
He had agreed to take over the hire purchase commitment on Mr Nutting's vehicle.
They were both doing Middle East work and, without his knowledge, Mr Nutting called at his house and asked his wife for a set of permits. The vehicle was specified on his licence, but Mr Nutting had been doing his own work.
He agreed that Mr Nutting did not have a licence of his own.
Mr Hooper said that Mr Nutting had used the vehicle without his authority. He had known nothing about the operation of the vehicle at the time. He had not taken over the hire purchase commitment until the following March.
In reply to Mr Peter, Mr Hooper said he had since employed Mr Nutting as a driver. Mr Nutting left his employment last December because of a few discrepancies. He had employed him because he was an experienced international driver.
Traffic examiner Malcolm Plaskett said the vehicle had been specified on the Petrans International licence from June 1981 until early 1982.
Mr Hooper had denied all knowledge of the operation of the vehicle during that period and it appeared to have been a device to enable Mr Nutting to operate a vehicle.
Investigations showed that three sets of permits issued to Mr Hooper had been used by Mr Nutting. A series of offences were reported, but only a selection were proceeded with.
An articulated vehicle operated by Mr Hooper and driven by Mr Nutting was seen in a silent check in November.
Investigation showed that the vehicle had been taxed as private light goods and that the excise licence had expired at the end of September.
An examination of the tachograph chart for the period August to December, most in the name of Nutting, revealed 24 occasions when the daily driving limit had been exceeded, 17 occasions when the continuous driving limit had been exceeded, and 18 occasions when insufficient rest was taken.
Refusing the application, Mr Peter said Mr Hooper was unfit to hold a licence and had lost his good repute.