The killer in the cab
2nd March 1985
Page 16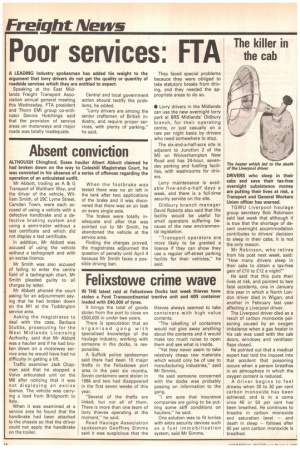 Page 16, 2nd March 1985 —
The killer in the cab
Close
DRIVERS who sleep in their cabs and save their tax-free overnight subsistence money are putting their lives at risk, a Transport and General Workers Union officer has warned.
TGWU Liverpool haulage group secretary Bob Robinson said last week that although it is true that the shortage of decent overnight accommodation contributes to drivers' decision to sleep in their cabs, it is not the only reason.
Mr Robinson, who retires from his post next week, said: "How many drivers sleep in their cabs to obtain a tax-free gain of £10 to £12 a night?"
He said that this puts their lives at risk, and pointed to two fatal accidents, one in January this year in which a North London driver died in Wigan, and another in February last year affecting a Liverpool driver.
The Liverpool driver died as a result of carbon monoxide poisoning caused by an oxygen imbalance when a gas heater in his cab was used with the cab doors, windows and ventilator flaps closed.
He pointed out that a medical expert had told the inquest into that accident that poisoning occurs when a person breathes in an atmosphere in which the Oxygen content is reduced.
A driver begins to feel drowsy when 20 to 30 per cent carbon monoxide has been achieved, and is in a coma once 40 or 50 per cent has been breathed. He continues to breathe in carbon monoxide and saturation level — and death in sleep — follows after 60 per cent carbon monoxide is breathed.