Absent conviction
2nd March 1985
Page 16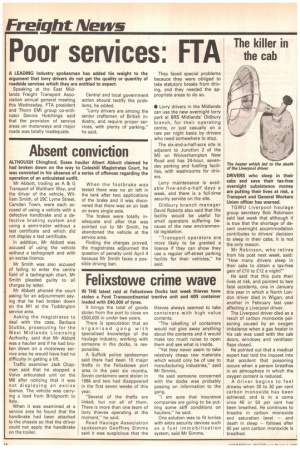 Page 16, 2nd March 1985 —
Absent conviction
Close
ALTHOUGH Chingford, Essex haulier Albert Abbott claimed he had broken down on the way to Coleshill Magistrates Court, he was convicted in his absence of a series of offences regarding the operation of an articulated outfit.
Mr Abbott, trading as A & G Transport of Waltham Way, and the driver of the vehicle, William Smith, of 29C Lyme Street, Camden Town, were each accused of using a vehicle with a defective handbrake and a defective braking system and using a semi-trailer without a test certificate and which did not display a test certificate.
In addition, Mr Abbott was accused of using the vehicle without a tachograph and with an excise licence.
Mr Smith was also accused of failing to enter the centre field of a tachograph chart. Mr Smith pleaded guilty to all charges by letter.
Mr Abbott phoned the court asking for an adjournment saying that he had broken down on the MI at the Toddington service area.
Asking the magistrates to deal with the case, Barbara Stubbs, prosecuting for the West Midlands Licensing Authority, said that Mr Abbott was a haulier and if he had broken down on a motorway service area he would have had no difficulty in getting a lift.
Traffic examiner Jack Chapman said that he stopped a Volvo articulated unit on the M6 after noticing that it was not displaying an excise licence. The vehicle was carrying a load from Bridgnorth to Italy.
When it was examined at a service area he found that the handbrake had been attached to the chassis so that the driver could not apply the handbrake on the trailer. When the footbrake was tested there was no air left in the tank after two applications of the brake and it was discovered that there was an air leak on every single axle.
The brakes were totally inadequate and after that was pointed out to Mr Smith, he abandoned the vehicle at the service area.
Finding the charges proved, the magistrates adjourned the question of penalty until April 4 because Mr Smith faces a possible driving ban.