One Hears
2nd March 1945
Page 17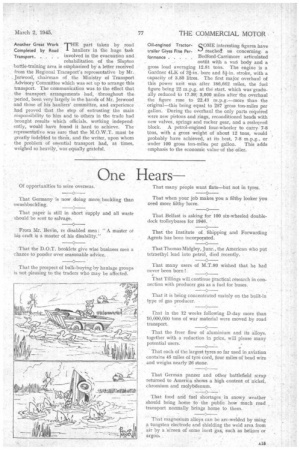 Page 17, 2nd March 1945 —
One Hears
Close
Of opportunities to seize overseas.
That Germany is now doing more buckling than swashbuckling.
That paper is still in short supply and all waste should be sent to salvage.
From Mr. BeVin, re disabled men : "A master of his craft is a master of his disability."
That the D.O.T. booklets give wise business men a chance-to ponder over seasonable advice.
That the prospect of bulk-buying by haulage groups is not pleasing to the traders who may be affected. That many people want flats—but not in tyres.
That when your job makes you a filthy looker you need more filthy lucre.
That Belfast is asking for 100 six-wheeled doubledeck trolleylauses for 1946.
That the Institute of Shipping and Forwarding Agents has been incorporated.
That Thomas Midgley, junr., the American, who put tetraethyl lead into petrol, died recently.
That many users of M.T.80 wished that he had never been born!
That Tillings will continue practical research in connection with producer gas as a fuel for buses.
That it is being concentrated mainly on the built-in type of gas producer.
That in the 12 weeks following D-day more than 10,000,000 tons of war material were moved by road transport.
That the freer flow of aluminium and its alloys, together with a reduction in price, will please many potential users.
That each of the largest tyres so far used in aviation contains 45 miles of tyre cord, four miles of bead wire and weighs nearly 26 stone.
That German panzer and other battlefield scrap returned to America shows a high content of nickel, chromium and molybdenum.
That food and fuel shortagessnowy weather should bring home to the publc how much road transport normally brings home to them.
That magnesium alloys can be arc-welded by using. a tungsten electrode and shielding the weld area from air by a *sereen of some inert gas, such as helium or argon, ,