Export of Used Vehicles Will Help to Solve Two Problems
2nd March 1945
Page 16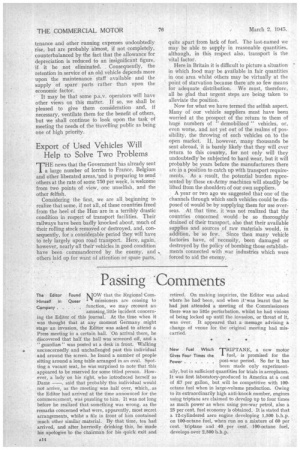 Page 16, 2nd March 1945 —
Export of Used Vehicles Will Help to Solve Two Problems
Close
THE news that the Government has already sent a large number of lorries to France, Belgium and other liberated areas, and is preparing to send others at the rate of some 750 per week, is welcome from two points of view, one unselfish, and the other telfish.
• Considering the first, we are all beginning to realize that some, if not all, of these countries freed from the heel of the Hun are in a terribly drastic condition in respect of transport facilities. Their railways have been badly knocked about, much of their rolling stock removed or destroyed, and, consequently, for a considerable period they will have to rely largely upon road transport. Here, again, however, nearly all their vehicles in good condition have been commandeered by the enemy, and others laid up for want of attention or spare parts, quite apart from lack of fuel. The last-named we may be able to supply in reasonable quantities, although, in this respect also, transport is the vital factor.
Here in Britain it is difficult to picture a situation in which food may be available in fair quantities in one area whilst others may be virtually at the point of starvation because there are so few means for adequate distribution. We must, therefore, all be glad that urgent steps are being taken to alleviate the position.
Now for what we have termed the selfish aspect. Many of our vehicle suppliers must have been worried at the prospect of the return to them of huge numbers of " demobilized " vehicles, or, even worse, and not yet out of the realms of possibility, the throwing of such vehicles on to the open market. If, however, many thousands be sent abroad, it is barely likely that they will ever return to this country, for not only will they undoubtedly be subjected to hard wear, but it will probably be years before the manufacturers there are in a position to catch up with transport requirements. As a result, the potential burden represented by these ex-Army machines will steadily be lifted from the shoulders of our own suppliers.
A year or two ago we suggested that one of the channels through which such vehicles could be disposed of would be by supplying them for use overseas. At that time, it 'was not realized that the countries concerned would be so thoroughly drained of their transport, also that their available supplies and sources of raw materials would, in addition, be so few. Since •then many vehicle factories have, of necessity, been damaged or deStroyed by the policy of bombing those establish , ments connected with ,Ivar industries which were forced to aid the enemy,