The Latest
2nd June 1931
Page 58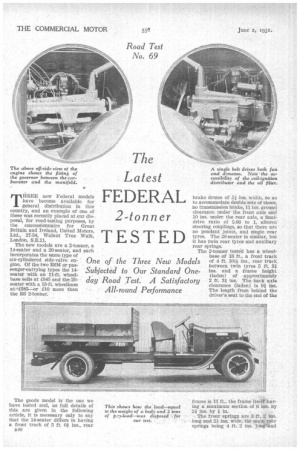 Page 59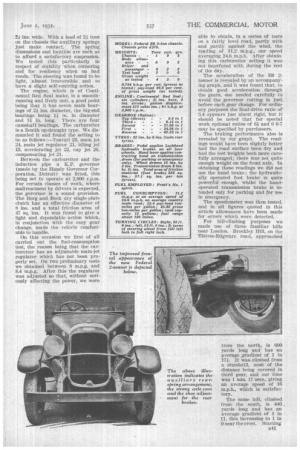 Page 60
Page 58, 2nd June 1931 —
The Latest
Close
FEDERAL
2-tonner
TESTED
TFIREE new Federal models have become available for general distribution in this country, and an example of one of these was recently placed at our dis-. posal, for road-testing purposes, by the concessionnaire for Great Britain and Ireland, United Motors, Ltd., 2734, Walnut Tree Walk, London, S.E.11.
The new models are a 2-tonner, a 14-seater and a 20-seater, and each Incorporates the same type of six-cylindered side-valve engine. Of the two E6M or passenger-carrying types the 14seater with an 11-ft. wheelbase sells at £345 and the 20seater with a 13-ft. wheelbase at-'1385—or _ £10 more than the E6 2-tonner.'
The goods model is the one we have tested and, as full details of this are given in the following article, it is necessary only to say that the 14-seater differs in having a front track of 5 ft. 0* ins., rear brake drums of 51 ins, width, so as to accommodate double sets of shoes, no transmission brake, 11 ins, ground clearance under the front axle and 10 ins, under the rear axle, a finaldrive ratio of 5.66 to 1, altered steering couplings, so that there are no pendant joints, and single rear tyres. The 20-seater is similar, but it has twin rear tyres and auxiliary rear springs.
The 2-tonner tested has a wheelbase of 13 ft., a front track of 4 ft. 10+1ins., rear track between twin tyres 5 ft. 3/ ins, and a frame height (laden) of approximately 2 ft. 3/ ins. The back axle clearance (laden) is 91 ins. The length from behind the driver's seat to the end of the
frame is 11 ft., the frame itselrhaving a maximum section of 6 inS, ...by 21 ins. by 1 in.
The front springs are 3 ft. ins. long and 21 ins. wide, the mai springs being 4 ft. 2 ins. lon
21 ins. wide. With a load of 21 tons on the chassis the auxiliary springs. just make contact. TIM Spring dimensions and location are'sueli as to afford a satisfactory suspension: We tested. thiS particularly in respect of stability when cornering and for resiliency when on bad roads. The steering was found to be light, almost irreversible . and, to have a slight self-centring action.
The engine, which is of Continental Red Seal make, is a smoothrunning and lively unit, a good point being that it has seven main bearings of .2i ins, diameter, the big-end bearings being 1i in. in diameter and 1* in. long: There are .four camshaft bearings. The carburetter is a Zenith up-draught type. We dismantled it and found the setting to be as follows :—Venturi 23, main jet 24, main jet regulator. 21, idling jet 13, accelerating jet 22, cap jet 26, compensating jet 21. .
Between the carburetter and the induction pipe a KY. governor (made by the Handy Governor Corporation, Detroit) was fitted, this being set to operate at 2,600 r.p.m. For certain classes of work, where maltreatment by drivers is expected, the governor is a sound provision. The Borg and Beck dry single-plate clutch has an effective diameter of 8 ins, and a total friction area of 47 sq. ins. It was found to give a light and dependable action which, in conjunction with the easy gear change, made the vehicle comfortable to handle.
On this occasion we first of all carried out the fuel-consumption test, the reason being that the carburetter has an adjustable main-jet regulator which has not been properly set. On two preliminary .tests we obtained between 8 m.p.g. and 8.4 m.p.g. After this the regulator was adjusted so that, without seriously affecting the power, we were able to obtain, in a series of tests on a fairly level road, partly with and ,partly against the wind, the reading of 11.2 our speed averaging 246, m.p.h. After obtaining this carburetter 'setting it was not interfered with during the rest of the day.
The acceleration.. of the E6 2tanner is revealed by an accompany: ing graph, and it was found that, to obtain good acceleration • through the gears, one needed carefully to avoid the governor cutting in just. before each gear change. For ordinary purposes the final-drive ratio of 5.4 appears just about right, but itshould be noted that for special work optional ratios of 64 and 6 6-7 may be specified by purchasers.
The 'braking perforniance also is revealed by our graph. The readings would have been slightly better had the road surface been dry and had the test weights been more carefully. arranged ; there was not quite enough weight on the front axle. In obtaining these readings we did not use the hand brake; the hydraulically operated foot brake is quite powerful enough, whilst the handoperated transmission brake is intended only for parking and for use in emergency. The speedometer was then tested, and in all figures .quoted in this article allowances have been made for errors which were detected.
For hill-climbing purposes we made use of three familiar hills near London. 13rockley Hill, on the -Elstree-Edgware road, approached
trorn the north, is 600 yards long and has an average .gradient of 1 in 171. It was climbed from a standstill, most of the distance being covered in third gear, and our time was 1 min. 17 secs., giving an average speed of 16 m.p.h., which is satisfactory.
The same hill, climbed from the south, is 440 yards long and has an average gradient of 1 in 11, this increasing to 1 in 9 near the crest. Starting from rest, third gear was engaged at 10 m.p.h., but could not be held, and the climb was completed on second gear in 1 min. 23 secs., giving a speed of 10.8 .m.p.h., which also is quite good.
Cocks Hill, on the Elstree-Barnet road, is short and steep, being 200 yds. long and having an average gradient of 1 in 8.57, the gradient just before the crest increasing to 1 in 6. On this hill, also starting from rest, it was actually possible to engage third gear in the early stage, a reversion to second gear being necessary almost immediately, although third gear was again called for just before reaching the summit. The time was 45 secs., the speed averaging 9.09 m.p.h. This is a good general performance.
Cocks Hill was made use bf to demonstrate that either hand or foot brake would easily hold the laden chassis, facing uphill or down hill, on the 1-in-6 gradient. There was no sign whatever of overheating as a result of these three climbs,
carried out in quick succession, and we should like also to mention that, after descending Brockley Hill northward, we were able to ascend into Elstree Village on top gear, our speed falling from a running start at 35 m.p.h. to 15 m.p.h. at the crest —and this without any pinking.
One slight criticism which we would make in connection with this chassis is that the fuel tank has a capacity of only 12 gallons, which gives it a range of about 130 miles. A larger tank would be useful. Apart from this, the chassis, which is of a perfectly straightforward design and accessible of layout, appears to have quite a satisfactory performance and to be sturdily built.