Solving Engineering Problems by Electronics
2nd July 1948
Page 76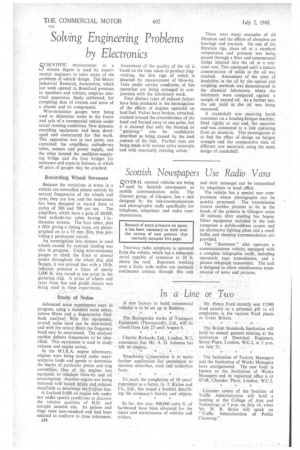 Page 76, 2nd July 1948 —
Solving Engineering Problems by Electronics
Close
SC1ENTIFIC measurement to a minute degree is used by experimental engineers to solve many of the problems of vehicle design. The Motor Industrial Research, Association, which last week opened its Brentford premises to members and visitors, employs electrical apparatus, finely calibrated, for compiling data of stresses and noise of a chassis and its components.
Wire-resistance gauges were being used to determine stress in the frame and axle of a commercial vehicle under actual running conditions. New dynamic recording equipment had been developed and constructed for this work. This apparatus was in two parts; one contained the amplifiers, cathode-ray tubes, camera and power supply, and the other housed the oscillator-supplying bridge and the four bridges for resistance and capacity balance, to which 40 pairs of gauges may be attached.
Recording Wheel Stresses
Because the variations in stress in a vehicle are controlled almost entirely by natural frequencies of the wheels and tyres, they are low, and the instrument has been designed to record them at cycles of 500 and 700 per sec. The amplifiers, which have a gain.of 60,000, feed cathode-ray tubes having 1-in.diameter screens. The four tubes, plus a fifth giving a timing trace, are photographed on to a 35 mm. film, thus providing a permanent record.
An investigation into stresses in road wheels caused by external loading was also in progress. Using wire-resistance gauges to check the force at' several points throughout the wheel disc and flanges, it was proved that with a 10-lb. inflation 'pressure a force of nearly 2,000 lb. was.raised at one point in the guttering ring. A series of wheels and tyres from bus and godds 'chassis was being used in these exPeriinents.
.. Study of Noise . .
Advanced noise exPeriments were in progress, using a standard noise Meter, octave filters and a degenerative feedback analysers.. With this equipment, overall noise level can be determined, and with the octave filters the frequency band may be ascertained. The analyser enables definite frequencies t& be identified. This equipment is used to study exhaust and engine noises,
In the M.I.R.A. engine laboratory, engines were being tested under representative loads and speeds to determine the merits of particular piston and ring assemblies. One of. the engines was equipped to ineattie blow-by and oil consumption. Another engine was being motored with'sealed ittakendexhàust manifolds to determine thelrichon loss.
A Leyland 0.600 oil engin'e Was under test under special conditions to discover the relative qualities of H.D. and straight mineral oils. Its pistons and rings were non-standard and had been selected to conform to close tolerances. Assessment of the quality of the oil is based on the time taken to produce ringsticking, the first sign of which is detected by measurement of blow-by. Tests under service conditions of bus operation are being arranged in conjunction with the laboratory work.
Four_ distinct types of exhaust failure have been produced in the investigation of the effects of engines operated on lead fuel. Valves have broken, stretched, cracked around the circumference of the head and burned away at one point, but it is claimed that only the burning or " guttering " can be confidently described as being caused by the lead content of the fuel. Further tests are being made with various valve materials and with constantly rotating valves.• There were many examples of oil filtration and the effects of abrasives on bearings and journals. On one of the filtration rigs, clean oil at a standard temperature and pressure was being passed through a filter and concentrated sludge injected into the oil at a constant rate. This continued until a certain concentration of solids in the oil was reached. Assessment of the total of insolubles in the oil by the optical and weighing methods was demonstrated in the chemical laboratory, where the lubricants were compared against a sample of unused oil. As a further test, the ash yield in the oil was being measured.
A crankshaft was receiving harsh treatment on a bending-fatigue machine. Held rigidly at one end, the opposite end' was connected to a link operating from an eccentric. This investigation is to find the effect of design on fatigue strength and for comparative tests of different cast materials, using the same design of crankshaft.