New Double-decker for Express Services
2nd July 1948
Page 75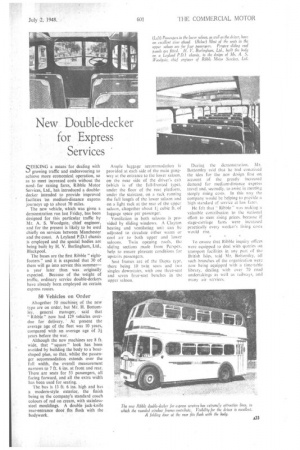 Page 75, 2nd July 1948 —
New Double-decker for Express Services
Close
SEEKING a means for dealing with growing traffic and endeavouring to achieve more economical operation, so as to meet increased costs without the need• for raising fares, Ribble Motor Services, Ltd., ha's introduced a doubledecker intended to provide improved facilities 'on medium-distance express journeys up to about 70 miles.
The new vehicle, which was given a demonstration run last Friday, has been designed for this particular traffic by Mr. A. S. Woodgate, chief engineer, and for the present is likely to be used chiefly on services between Manchester and the coast. A Leyland P.D.1 chassis is employed and the special bodies are being built by H. V. Burlingham"Ltd., Blackpool.
The buses are the first Ribble " eightfooters " and it is expected that 30 of them will go into service this summer— a year later than was originally expected. Because of the weight of traffic, ordinary service double-deckers have already been employed on certain express routes.
50 Vehicles on Order
Altogether 50 machines of the new type are on order, but Mr. H. Bottomley, general manager, said that "Ribble" now had 129 vehicles overdue for delivery. At present the average age of the fleet was 10 years, compared with an average age Of 3i years before the war.
Although the new machines are 8 ft. wide, that " square " look has been avoided by building the body to a boatshaped plan, so that, whilst the passenger accommodation extends over the full width, the overall measurement narrows to 7 ft. 6 ins, at front and rear. There are seats for 53 passengers, all facing forward, and all the extra width has been used for seating.
The bus is 13 ft. 6 ins, high and has a modern-style exterior, the finish being in the company's standard coach colours of red on cream, with stainlesssteel mouldings. A double jack-knife rear-entrance door fits flush with the bodywork. Ample luggage accommodation is provided at each side of the main gangway at the entrance to the lower saloon, on the near side of the driver's cab (which is of the full-fronted type), under the floor of the rear platform, under the staircase, on a rack running the full length of the lower saloon and on a light rack at the rear of the upper saloon, altogether about 11 cubic ft. of luggage space per passenger.
Ventilation in both saloons is provided by sliding windows. A Clayton heating and ventilating unit can he adjusted to circulate either warm or cool air to both upper and lower saloons. Twin opening roofs, the sliding sections made from Perspex, help to ensure pleasant conditions for upstairs passengers.
Seat frames are of the Dapta type, there being 10 twin scats and two singles downstairs, with one three-scat and seven four-scat benches in the upper saloon. During the demonstration. Mr. Boltomley said that he bad conceived the idea for the new Mien first on account of the greatly increased demand for medium-distance express travel and, secondly. to assist in meeting steeply rising costs. In this way the company would be helping to provide a high standard of service at low fartn.
He felt that " Ribble " was making a valuable contribution to the national effort to stem rising prices, because if stage-carriage fares were increased practically every worker's living costs would rise.
To ensure that Ribble inquiry offices were equipped to deal with queries on transport facilities in any part of the British Isles, said Mr. Bottomley, all such branches of the organization were now being equipped with a time-table library, dealing with over 70 road undertakings as well as railways, and many air services.