A Repair Shop That does To The Farmer
2nd July 1948
Page 66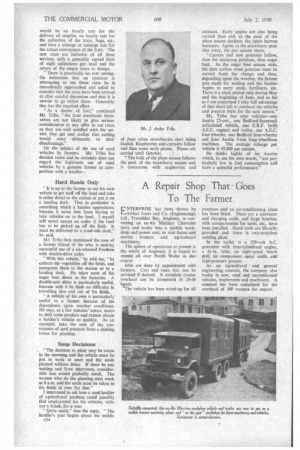 Page 66, 2nd July 1948 —
A Repair Shop That does To The Farmer
Close
ENTERPRISE has been shown by Arthur Jones and Co. (Engineering), Ltd., Trearddur Bay, Anglesey, in converting an ex-Air Ministry Chevrolet lorry and trailer into a mobile workshop and power unit, to visit farms and
service , tractors and agricultural machinery.
The sphere of operations at present is the whole of Anglesey; it is hoped to. extend all over North Wales in due course.
Jobs are done by appointment with farmers. Cars and vans, too, can be serviced if desired. A complete tractor overhaul can be completed in 24-48 hours.
*The 'vehicle has been wired-up for all
purposes and an air-conditioning plant has been fitted. There are a converter and charging outfit, and large benches, with compartments for tools, etc" have been installed. Hand tools are liberally provided and there is oxy-acctylene welding plant.
In the trailer is a 230-volt A.C. generator with four-cylindered engine, a 4fin. lathe, an eight-speed bench drill, air compressor, spray outfit, add high-pressure greaser.
As an agricultural and general engineering concern, the company also trades in new, used and reconditioned vehicles, implements and machinery. A contract has been completed for the overhaul of 300 tractors for export.