THE, FARMER'S VIEW
2nd July 1948
Page 60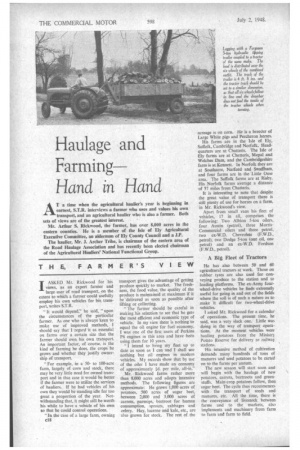 Page 65
Page 60, 2nd July 1948 —
THE, FARMER'S VIEW
Close
Keywords :
IASKED Mr. Rickwood for his views, as an expert farmer and large user of road transport, on the extent to which a farmer could usefully employ his own vehicles for his transport, writes S.T.R.
"It would depend," he said, upon the circumstances of the particular fanner. As one who is always keen to make use of improved methods, I should say that I regard it as essential on farms over a certain size that the farmer should own his own transport. An important factor, of course, is the kind of farming he does, the crops he grows and whether they justify ownership of transport.
"For example, in a 50to 100-acre farm, largely of corn and stock, there may be very little need for owned transport and in that case it would be better if the farmer were to utilize the services of hauliers. If he had vehicles of his own they would be standing idle for too great a proportion of the year. Notwithstanding that, it might still be worth his while to have a vehicle of his own so that he could control operations.
" In the case of a large farm, owning c18
transport gives the advantage of getting produce quickly to market. The freshness, the food value, the quality of the produce is maintained at maximum if it be delivered as soon as possible after lifting or collecting.
The farmer should be careful in making his selection to see that he gets the most efficient and economic type of vehicle. In my view there is nothing to equal the oil engine for fuel economy. I was one of the first users of Perkins P6 engines in this area and have been using them for 10 years.
"I intend to bring my fleet up to date as soon as I can and I shall ttse nothing but oil engines in modern vehicles. My records show that by use of the oiler I have made an economy of approximately Id. per mile, all-in."
Mr. Rickwood farms rather more than 8,000 acres and adopts intensive methods. The following figures are approximate: He grows 1,000 acres of potatoes, 500 acres of sugar beet, between 2,000 and 3,000 acres of carrots, parsnips, beetroot for human consumption, sprouts, cabbages and celery. Hay, lucerne and kale, etc., are also grown for stock. The rest of the acreage is on corn. Ile is a breeder of Large White pigs and Percheron horses.
His farms are in the Isle of Ely, Suffolk, Cambridge and Norfolk. Headquarters are at Chatteris. The Isle of Ely farms are at Chatteris, Mepal and Welches Dam, and the Cambridgeshire farm is at Kennett. In Norfolk they are at Southacre, Narford and Swaffham, and four farms are in the 'Little Ouse area. The Suffolk farms are at Rigby. His Norfolk farms average a distance of 37 miles from Chatteris.
It is interesting to note that despite the great value of transport there is still plenty of use for horses on a farm, in Mr. Rickwood's view.
Apart from small vans his fleet of vehicles, 17 in all, comprises the following: Two Albion 5-ton oilers, four Austin (petrol), three MorrisCommercial oilers and three petrol, two ex-W.D. Chevrolets (F.W.D., petrol), two Dodge 5-ton (one oil, one petrol) and an ex-W.D. Fordson (F.W.D., petrol).
A Big Fleet of Tractors He has also between 50 and 60 agricultural tractors at work. Those on rubber tyres are also used for conveying produce to the station and to loading platforms. The ex-Army fourwheel-drive vehicles he finds extremely useful for going in and out of the fields where the soil is of such R nature as to make it difficult for two-wheel-drive vehicles.
asked Mr. Rickwood for a calendar of operations. The present time, he said, was a very slack one. Little was doing in the way of transport operations. At the moment vehicles were hauling potatoes from the Ministry Potato Reserve for delivery to railway stations.
His intensive method of cultivation demands many hundreds of tons of manures and seed potatoes to be carted on to the farms per annum.
The new season will start soon and will begin with the haulage of new potatoes, carrots, beetroots and greenstuffs. Main-crop potatoes follow, then sugar beet. The cycle thus recornmences with the transport of seeds and manures, etc. All the time, there is the conveyance of livestock between farms and to the markets, also implements and machinery from farm to farm and farm to field. Particular care is taken to reduce the unladen mileage of the vehicles to a minimum, by arranging return loads of manure and seeds whenever practicable. Mr. Rickwood delivers to London and other markets on his own vehicles. ,He also uses much hired transport, but the bulk of the traffic still goes by rail. He prefers road transport, whenever it is possible because the speed in getting to market is so important.
In normal times he would regard three to four years as the maximum economic life of a vehicle engaged in his class of work, but owing to the supply position most of his vehicles are now upwards of eight years old and sonic are 10 years old.
The vehicles are distributed and stationed at farms according to need. The main repair depot is at Risby where two mechanics . are employed, but repairs are also executed at Chattcris and Southacre.
Produce is .taken by traetor and trailer to railhead. He uses both wheeled and track-laying tractors and finds the latter best on the Fenlands. Some of his vehicles are used in transporting gangs of men from farm to farm to enable work to be kept going. His average number of employees is approximately 500.
He grows large crops of celery and this is a crop that must be got quickly to market and with the minimum of handling, which is a point strongly in favour of the use of road transport.
Arks of 1947 His road transport proved of the greatest value during the floods following the heavy snows in 1947. By its use he saved a good deal of both livestock and produce, as well as furniture and effects of people in flooded farms and houses. One thousand acres of his farm were in the flooded areas of Southery.
The following are typical monthly mileages of his oil-engined vehicles: 2,480. 2.184, 1,992, 1,688, 1,992, and of petrol vehicles, 1.784, 1,888, 1,088. 1,872, 2,196, 1,824. The four-wheel-drive vehicles average about 800 miles per month.