Fleei that Works on
2nd July 1948
Page 52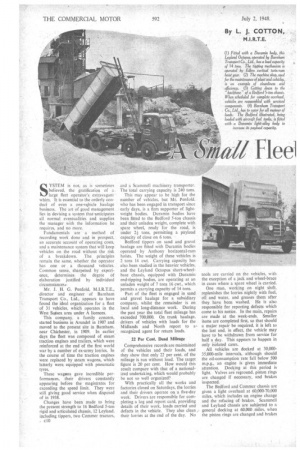 Page 53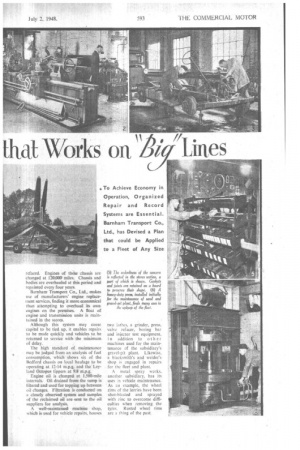 Page 52, 2nd July 1948 —
Fleei that Works on
Close
Keywords :
By L. J. COTTON, m.I.R.T.E.
SYSTEM is not, as is sometimes believed, the gratification of a large fleet operator's extravagant whim. It is essential to the orderly conduct of even a one-v%hicle haulage business. The art of good management lies in devising a system that-anticipates all normal eventualities and supplies the manager with the information he requires, and no more.
Fundamentals are a method of recording work done and in prospect. an accurate account of operating costs, and a maintenance system that will keep vehicles on the road without the risk of a breakdown. The principles remain the same, whether the operator has one or a thousand vehicles. Common sense, sharpened by experience, determines the degree of elaboration justified by individual circumstances, Mr. J. H. G. Penfold, M.I.R.T.E., director and engineer of Barnham Transport Co., Ltd., appears to have found the ideal organization for a fleet of 31 vehicles, which operates in the West Suisex area under A licences.
This company, a family concern, started business in Arundel in 1907 and moved to the present site in Barnham, near Chichester, in 1909. In earlier days the fleet was composed of steam traction engines and trailers, which were reinforced at the end of the first world war by a number of ex-army lorries. In the course of time the traction engines were replaced by steam wagons, which latterly were equipped with pneumatic tyres.
These wagons gave incredible performances, their drivers constantly appearing before the magistrates for exceeding the speed limit. They were still giving good service when disposed of in 1938.
Changes have been made to bring the present strength to 16 Bedford 5-ton rigid and articulated chassis, 12 Leyland, including tippers, two Commer tractors, . c 1 0 and a Scamtnell machinery transporter. The total carrying capacity is 240 tons.
This may appear to be high for the number of vehicles, but Mr. Penfold. who has been engaged in transport since early days. is a firm supporter of lightweight bodies. Duramin bodies have been fitted to the Bedford 5-ton chassis and their unladen weight, complete with spare wheel, ready for the road, is under 2i tons, permitting a payload capacity of close on 6 tons.
Bedford tippers on sand and gravel haulage are fitted with Duramin bodies operated by Anthony horizontal-ram hoists. The weight of these vehicles is 2 tons 14 cwt. Carrying capacity has also been studied in the heavier vehicles, and the Leyland Octopus short-wheelbase chassis, equipped with Duramin end-tipping bodies, are operating at an unladen weight of 7 tons 16 cwt., which permits a carrying capacity of 14 tons.
Part of the fleet is engaged in sand and gravel haulage for a subsidiary company, whilst the remainder is on local and long-distance work. During the past year the total fleet mileage has exceeded 700,000. On trunk haulage, drivers of vehicles with loads for the Midlands and North report to a• recognized, agent for return loads.
22 Per Cent. Dead Mileage Comprehensive records are maintained of the vehicles and their loads, and they show that only 22 per cent. of the mileage is run without load. The target figure is 20 per cent. How would this result compare with that of a nationalized undertaking, which would probably be not so well organized?
With practically all the works and factories closed on Saturdays, the lorries and their drivers operate on a five-day week. Drivers are responsible for completing a log and report card, providing details of their work, loads carried and defects in the vehicle. They also clean their lorries at the end of the day. No tools are carried on the vehicles, with the exception of a jack and wheel-brace in cases where a spare wheel is carried.
One man, working on night shift, replenishes the lorries nightly with fuel, oil and water, and greases them after they have been washed. He is also responsible for reporting defects which come to his notice. In the main, repairs are made at the week-ends. Smaller items are completed first, so that should a major repair be required, it is left to the last and, in effect, the vehicle may have to be withdrawn from service for half a day. This appears to happen in only isolated cases.
All vehicles are docked at 30,00035,000-mile intervals, although should the oil-consumption rate fall below 500 m.p.g.. an engine is given immediate attention. Docking at this period is light. Valves are reground, piston rings are changed if necessary, and brakes inspected.
The Bedford and Commer chassis are given a light overhaul at 60,000-70,000 miles, which includes an engine change and the refacing of brakes. Scammell and Leyland chassis are subjected to a general docking at 60.000 miles, when the piston rings are changed and brakes refaced. Engines of these chassis are
changed. at 120000 miles.. Chassis and bodies are overhauled at this. period: and repainted every four years.
Barnhart'. Transport Co., Ltd.., makes use of manufacturers' engine replacement services, finding it more. economical than attempting to overhaul its own engines on the premises. A float of engine, and transmission units is maintained in the stores.
Although this system may cause capital to be tied up, it enables repairs to be made quickly and vehicles to he returned to service with the minimum. of delay.
The high standard of maintenance may be judged from an analysis of fuel consumption, which Shows six of the Bedford chassis on local haulage to be operating at .12-14 m.p.g. and the' Leyland Octopus tippers at 9.8rn.p.g: Engine oil is changed: at 1,500-mile intervals,. Oil drained from the sump is filtered and used for topping up between oil changes. Filtration is conducted on a closely observed system and samples.. of the reclaimed oil: are sent to the oil suppliers for analysis.
A well-maintained machine shop, which is used for vehicle repairs, houses
two lathes, a grinder, press. valve refacer, boring bar and injector test equipment, in addition to other machines used for the maintenance of the subsidiary's gravel-pit plant. Likewise, a blacksmith's and welder's shop is engaged in repairs for the fleet and plant.
A metal spray works, another subsidiary, has its uses in vehicle maintenance. As an example, the wheel rims of the lorries have been shot-blasted' and sprayed with zinc to. overcome difficulties when removing, the tyres. Rusted wheel. rims are a thing of the past.