TRACTORS, M OWERS, ROLLERS V ISITORS will be able to inspect some
2nd July 1948
Page 48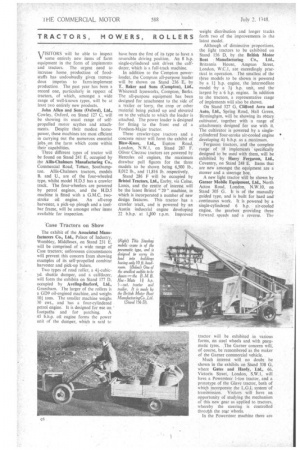 Page 49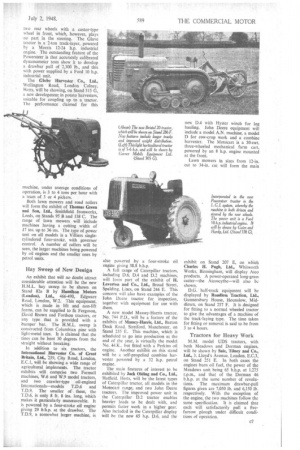 Page 48, 2nd July 1948 —
TRACTORS, M OWERS, ROLLERS V ISITORS will be able to inspect some
Close
Keywords :
Tractors
,
Engineering Vehicles
,
Agricultural Machinery
,
Massey Ferguson
,
Case Corporation
,
International Harvester
,
Caterpillar Inc.
,
Ferguson Te20
,
Lawn Mower
,
Two-wheel Tractor
,
Caterpillar D6
entirely new items of farm equipment in the form of implements and tractors. The urgent need to increase home. production of foodstuffs has undoubtedly given tremendous impetus to farm-implement production. The past year has been a record one, particularly in rcspect of tractors, of which, amongst a wide range of well-known types, will be at least two entirely new products.
John Allen and Sons (Oxford), Ltd., Cowley, Oxford, on Stand 127 C, will be showing its usual range of selfpropelled motor scythes and attachments. Despite their modest horsepower, these machines are most efficient in carrying out the numerous essential jobs. on the farm which come within their capabilities.
Three different types of tractor will be found on Stand 241 E, occupied by the Allis-Chalmers Manufacturing Co., Commercial Road, Tottion, Southampton. Allis-Chalmers tractors, models B. and U., are of the four-wheeled type, whilst model H.D.5 has a crawler track. The four-wheelers are powered by petrol engines, and the H.D.5 machine is fitted with a G.M.C. twostroke oil engine. An all-crop harvester, a pick-up plough and a toolbar frame, will be amongst other items available for inspection.
Case Tractors on Show The exhibit of the Associated Manufacturers Co., Ltd., Palace of Industry, Wembley, Middlesex, on Stand 231 E, will be comprised of a wide range of Case tractors; unforeseen circumstances will prevent this concern from showing examples of its self-propelled combine harvester and pick-up balers.
Two types of road roller, a 41-cubicyd. shuttle dumper, and a calfdozer, will form the exhibits on Stand 177 D, occupied by Aveling-Barford, Ltd., Grantham. The larger of the rollers is a GD9 oil-engined machine, and weighs 101 tons. The smaller machine weighs 30 cwt., and has a four-cylindered petrol engine. It is designed for ase on footpaths and for patching. A 45 b.h.p. oil engine forms the power unit of the dumper, which is said to
have, been the first of its type to have a reversible driving position. An 8 h.p. single-cylindered unit drives the calfdozer, which is a full-track machine.
In addition to the Compton powerloader, the Compton all-purpose loader will be shown on Stand 236 E, by T. Baker and Sons (Compton), Ltd., Whitewall Ironworks, Compton, Berks. The all-purpose equipment has been designed for attachment to the side of a trailer or 'lorry, the crop or other material being picked up and elevated on to the vehicle to which the loader is attached. The power loader is designed for fitting to the front end of a Fordson-Major tractor.
Three crawler-type tractors and a concrete mixer will form the exhibit of Blaw-Knox, Ltd., Euston Road, London, N.W.I, on Stand 287 F. Oliver Clectrac tractors are powered by Hercules oil engines, the maximum drawbar pull figures for the three models to be shown being 6,500 lb., 8,012 lb., and 11,816 lb. respectively.
Stand 286 F will be occupied by Bristol Tractors, Ltd., Earby, via Colne, Lanes, and the centre of interest will be the latest Bristol "20" machine, in which is incorporated a number of new design features. This tractor has a crawler track, and is powered by an Austin industrial engine developing 22 b.h.p. at 1400 r.p.m. Improved
weight distribution and longer tracks forth two of the improvements in tiv, latest model.
Although of diminutive proportions, the light tractors to be exhibited on Stand 156 D, by the British Motor Boat Manufacturing Co., Ltd., Britannia House, Arripton Street, London, W.C.1, are exceedingly practical in operation. The smallest of the three models to be shown is powered by a 11 h.p. engine, the intermediate model .by a 31 h.p. unit, and the largest by a 6 h.p. engine. In addition to the tractors, a representative range of implements will also be shown.
On Stand 327 G, Clifford Aero and Auto, Ltd., Spring Road, Hall Green,
cultivator, together with a range of Birtninghrn, will be showing its rotary
attachments designed for use with it. The cultivator is powered by a singlecylindered'four-stroke air-cooled engine • developing 41 b.h.p. as a maximum.
Ferguson tractors, and the complete range of 18 implements specifically designed to be used with them, will be exhibited by Harry Ferguson, Ltd., Coventry, on Stand 248 E. Items that are new amongst the equipment are a mower and a steerage hoe.
A new light tractor Will be shown by Garner Mobile Equipment, Ltd., North Acton Road, London, N.W.10, on Stand 305 G. It is of the manually guided type, and is built for hard and continuous work. It is powered by a single-cylindered 6 h.p. air-cooled engine, the gearbox providing three forward speeds and a reverse. The
tractor will be exhibited in various forms, on steel wheels and with pneumatic tyres. The Garner concern will; of course, be remembered as the maker of the Garner commercial vehicle.
Much interest will no doubt be shown in the exhibits on Stand 338 G, where Gates and Hardy, Ltd., 66, Victoria Street, London, S.W.1, will have a Powersteer 1-ton tractor, and a prototype of the Gave tractor, both of which incorporate the L.G.1. system of transmission. Visitors will have an opportunity of studying the mechanism of this new gear as applied to tractors, whereby the steering is controlled throtth the rear wheels.
In the Powersteer machine there are two rear wheels with a castor-type wheel in front, which, however, plays no part in the steering. The Glove tractor is a 2-ton track-layer, powered by a Morris 12-24 h.p. industrial engine. The outstanding feature of the Powersteer is that accurately calibrated dynamometer tests show it to develop a drawbar pull of 2,300 lb., and this with power supplied by a Ford 10 h.p. industrial unit.
The Globe Harvester Co., Ltd., Wellington Road, London Colney, Herts, will be showing, on Stand 315 G, a new development in potato harvesters, suitable for coupling up to a tractor. The performance claimed for this machine, under average conditions of operation, is 3 to 4 tons per hour with a team of 3 or 4 pickers.
Both lawn mowers and road rollers will form the exhibit of Thomas Green and Son, Ltd., Smithfield Ironworks, Leeds, on Stands 95 B and 138 C. The range of lawn mowers will include maChines having a cutting width of .17 inst up to 36 ins. The type of power unit on all models is a Villiers singlecylindered four-stroke, with governor control. A number of rollers will be seen, the larger machines being powered by oil engines and the smaller ones by petrol units.
Hay Sweep of New Design An exhibit that will no doubt attract considerable attention will be the new H.M.L. hay sweep to be shown on Stand 82a B by Hamilton Motors (London), Ltd., 466-490, Edgware Road, London, W.2. This equipment, which is made in lift and non-lift forms, can be supplied to fit Ferguson, David Brown and Fordson tractors, or any, type that is provided with a bumper bar. The H.M.L. sweep is constructed from Columbian pine with light-metal toes. It is claimed that the tines can be bent 30 degrees from the straight without breaking.
In addition to six tractors, the International Harvester Co. of Great Britain, Ltd., -259, City Road, London, E.C.1, will be showing a wide range of agricultural implements. The tractor exhibits will comprise two Farman machines, W.6 and W.9 model tractors, and two crawler-type oil-engined Internationals—models T.D.6 and T.D.9. The smaller of these, the T.D.6, is only 8 ft. 8 ins, long, which makes it particularly manceuvrable. It is powered by a four-stroke oil engine giving 29 b.h.p. at the drawbar. The T.D.9, a somewhat larger machine, is
also powered by a four-stroke oil engine giving 38.8 b.h.p.
A full range of Caterpillar tractors, including D.6, D.4 and D.2 machines, will form part of the exhibit of H. Leverton and Co., Ltd., Broad Street, Spalding, Lines, on Stand 246 E. This concern will also have examples of the John Deere tractor for inspection, together with equipment for use with them.
A new model Massey-Harris tractor, No. 744 P.D., will be a feature of the exhibits of Massey-Harris, Ltd., Barton Dock Road, Stretford, Manchester, on Stand 235 E. This machine, which is scheduled to go into production at the end of the year, is virtually the model No. 44.K., hut fitted with a Perkins oil engine. Another exhibit on this stand will be a self-propelled combine harvester powered by a 32 h.p. petrol engine.
The main features of interest to he exhibited by Jack Olding and Co., Ltd., Hatfield, Herts, will be the latest types of Caterpillar tractor, all models in the Motocart range, and two John Deere tractors. the improved power unit in the Caterpillar D.2 tractor enables heavier loads to be dealt with, and permits faster work in a higher gear. Also included in the Caterpillar display will be the new 65 h.p. D.6, and the new D.4 with Hyster winch for log hauling. John Deere equipment will include a model A.N. machine, a model D for row-crop work and a combine harvester. The Motocart is a 30-cwt. three-wheeled mechanical farm cart, powered by an 8 h.p. engine mounted at the front.
Lawn mowers in sizes from 12-in. cut to 34-in. cut will form the main exhibit on Stand 207 E, on which Charles H. Pugh, Ltd., Whitworth Works, Birmingham, will display Atco products. A power-operated long-grass cutter—the Atcoseythe—will also be shown.
D.G. half-track equipment will be displayed by Roadless Traction, Ltd., Gunnersbury House, Hounslow, Middlesex. on Stand 257 F. It is designed for fitting to a normal wheeled tractor to give the advantages of a machine of the track-laying type. The time taken for fitting or removal is said to be from 3 to 4 hours.
Tractors for Heavy Work
M.M. model UDS tractors, with both Meadows and Dorman engines, will be shown by Sale, Tilney and Co., Ltd., 3, Lloyd's Avenue, London, E.C.3, on Stand 251 E. In both cases the engines burn oil fuel, the power of the Meadows unit being 65 b.h.p. at 1,275 r.p.m., and that of the Dorman 46 b.h.p. at the same number of revolutions. The maximum drawbar-pull figures given are 7,050 lb. and 6,150 lb. respectively. With the exception of the engine, the two machines follow the same specification. It is claimed that each will satisfactorily pall a fivefurrow plough under difficult conditions of operation.