WHAT TO SEE AT THE ROYAL SHOW
2nd July 1948
Page 44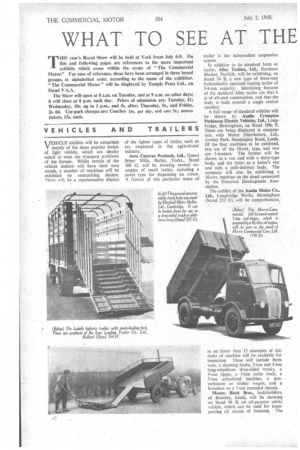 Page 45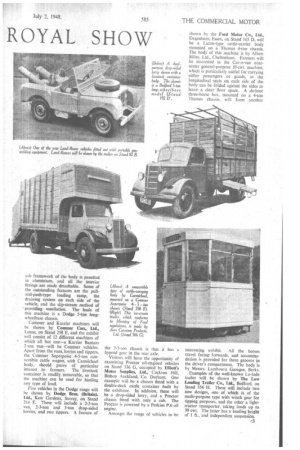 Page 46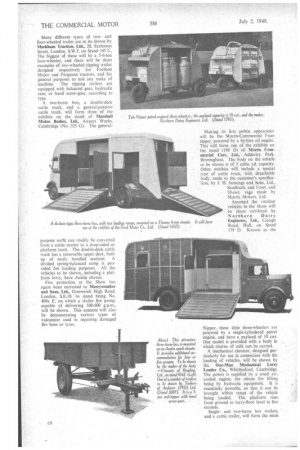 Page 47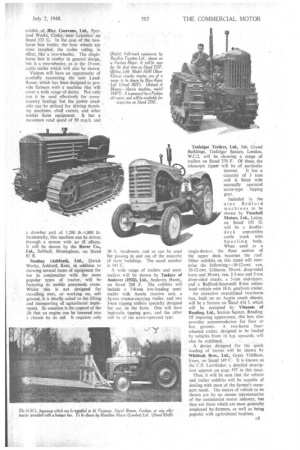 Page 44, 2nd July 1948 —
WHAT TO SEE AT THE ROYAL SHOW
Close
Keywords :
Car Classifications
,
Articulated Vehicles
,
Pickup Trucks
,
Semi-trailer
,
Truck
,
Trailer
,
Commer
,
Van
,
Vulcan
,
Scammell
,
Thames 400e
,
Dump Truck
THIS year's Royal Show will be held at York from July 6-9. On this and following pages are references to the more important exhibits which come within the scope of "The Commercial Motor." For ease of reference, these have been arranged in three broad groups, in alphabetical order, according to the name of the exhibitor. "The Commercial Motor" will be displayed by Temple Press Ltd., on Stand 9 A.A.
The Show will open at 8 a.m. on Tuesday, and at 9 a.m. on other days; it will close at 8 p.m. each day. Priccs of admission are: Tuesday, /1; Wednesday, 10s. up to 1 p.m., and 5s. after; Thursday, 5s., and Friday, 2s. 6d. Car-park charges are: Coaches 10s. per day, and cars 5s.; season tickets, 15s. each.
VEHICLE exhibits will be comprised mainly of the more popular makes of light vehicle, which are ideally suited to meet the transport problems of the farmer. Whilst certain of the vehicle makers will have their own stands, a number of machines will be exhibited by enterprising dealers. There will be a representative display
of the lighter types of trailer, such as are employed in the agricultural industry.
Aero Caravan Products, Ltd., Queen Street Mills, Batley, _Yorks., Stand 306 0, will be showing several examples of small trailer, including a novel type for dispensing ice cream. A feature of this particular make of
trailer is the independent suspension system.
In addition to its standard form ot trailer, Alley Trailers, Ltd., Burnham Market, Norfolk, will be exhibiting, on Stand 74 B, a new type of three-way hydraulically operated tipping trailer of 3-4-ton capacity. Interesting features of the standard Alley trailer are that it is of all-steel construction, and that the body is built around a single central member.
A full range of standard vehicles will be shown by Austin Crompton Parkinson Electric Vehicles, Ltd., Long bridge, Birmingham, on Stand 188a E. These are being displayed in conjunction with Motor Distributors, Ltd., Armley Park, Stanningley Road, Leeds. Of the four machines to be exhibited, two are of the 10-cwt. type, and two are 1-tonners. The former will be shown as a van and with a dairy-type body, and the latter as a baker's van and with a milk-delivery body. The company will also be exhibiting a l0-cwt. machine on the stand sponsored by the Electrical Development Association.
The exhibit of the Austin Motor Co., Ltd., Longbridge Works, Birmingham (Stand 253 E), will be comprehensive, as no. fewer than 13 examples of this make of machine will be available for inspection. These will include three vans, a shooting brake, 2-ton and 5-ton long-wheelbase drop-sided -trucks, a 5-ton tipper, a 5-ton cattle truck, a 5-ton articulated machine, a pantechnicon or timber wagon, and a horsebox or a 5-ton extended chassis.
Messrs. Birch Bros., bodybuilders, of Bramley. Leeds, will be showing on Stand 96 B, an all-purpose utility vehicle, which can be used for transporting all classes of livestock. The
ash framework of the body is panelled in aluminium, and all the interior fittings are made detachable. Some of the outstanding features are the pulland-Push-type loading ramp, the draining system on each side of the vehicle, and the slip-stream method of providing ventilation. The basis of this machine is a Dodge 5-ton longwheelbase chassis, Commer and Karrier machines will he shown by Commer Cars, Ltd., Luton, on Stand 258 E, and the exhibit will consist of 12 different machines of which all but one—a Karrier Bantam 2-ton van—will be Commer vehicles. Apart from the vans, lorries and tippers, the Commer Superpoise 4-5-ton convertible cattle wagon, with Carmichael body, should prove of particular interest to farmers. The livestock container is readily removable, so that the machine can be used for hauling any type of load.
Five vehicles in the Dodge range will
• be shown by Dodge Bros. (Britain), Ltd., Kew Gardens, Surrey, on Stand 214 E. These will include a 2-3-ton van, 2-3-ton and 5-ton drop-sided lorries, and two tippers.A feature of
the 2-3-ton chassis is that it has a hypoid gear in the rear axle.
Visitors will have the opportunity of examining Proctor oil-engined vehicles on Stand 336 0, occupied by Elliott's Motor Supplies, Ltd., Cockton Hill, Bishop Auckland, Co. Durham. One example will be a chassis fitted with a double-deck cattle container built by the exhibitor. In addition, there wilt be a drop-sided lorry, and a Proctor chassis fitted with only a cab. The Proctor is powered by a Perkins P.6 oil engine.
Amongst the range of vehicles to be
shown by the ;Ford Motor Co., Ltd., Dagenham, Essex, on Stand 165 D, will be a Luton-type cattle-carrier body mounted on a Thames 4-ton chassis. The body of this machine is by Albert Miles, Ltd., Cheltenham. Farmers will be interested in the Car-o-van nineseater general-purpose 10-cwt. machine, which is particularly useful for carrying either passengers or goods, as the longitudinal seats on each side of the body can be folded against the sides to leave a clear floor space. A de-luxe three-horse box, mounted on a 4-ton Thames chassis, will form another
interesting exhibit. All the homes travel facing forwards, and accommodation is provided for three grooms in the driver's compartment. The body is by Messrs. Lambourn Garages, Berks.
Examples of the well-known Lo-lode trailer will be Shown by The Low Loading Trailer Co., Lid., Bedford, on Stand 354 H. These will include two new designs, one of which it of the multi-purpose type with winch gear for tipping purposes, and the other a lighttractor transporter, taking loads up to 30 cwt. The latter has a loading height of 1 ft., and independent suspension. Many different types of twoand four-wheeled trailer are to be shown by Markham Traction, Ltd., 28, Eccleston Street, London, S.W.1', on Stand 145 C. The biggest of these will be a 5-6-ton four-wheeler, and there will be three examples of two-wheeled tipping trailer designed respectively for Fordson Major and Ferguson tractors, and for general purposes to suit any make of machine. The tipping trailers are equipped with balanced gear, hydraulic ram, or hand screw-gear, according to type.
A two-horse box, a double-deck cattle truck, and a general-purpose cattle truck, will form three of the exhibits on the stand of Marshall Motor Bodies, Ltd., Airport Works, Cambridge (No. 325 G). The general
purpose outfit can readily be converted from a cattle carrier to a drop-sided or platform truck. The double-deck cattle truck has a removable upper deck, built up of easily handled section's. A divided spring-balanced ramp is provided for loading purposes. All the vehicles to be shown,, including a platform lorry, have Austin chassis.
Fire protection at the Show has again been entrusted to Merryweather and Sons, Ltd., Greenwich High Road, London, S.E.10, its stand being No. 409a F, on which a trailer fire pump, capable of delivering 500-600 g.p.m., will be shown. This concern will also be demonstrating various types of vulcanizer used in repairing damaged fire hose or tyres. Making its first public appearance will be the Morris-Commercial 5-ton tipper, powered by a 41-litre oil engine. This will form one of the exhibits on the stand (190 D) of Morris Commercial Cars, Ltd., Adclerley Park, Birmingham. The body on the vehicle to be shown is of 5 cubic yd. capacity. Other exhibits will include a special type of cattle truck, with detachable body, made to the customer's specification, by .1. H. Jennings and Sons, Ltd.. Sandbach, and 5-cwt. and 10-cwt. yap made by Morris Motors, Ltd.
Amongst the f,mallest vehicles in the Show will be those exhibited by
Northern Dairy Engineers, Ltd., Clough Road, Hull, on Stand 179 D. Known as the Nipper, these little three-wheelers are powered by a single-cylindered petrol engine, and have a payload of 10 cwt. One model is provided with a body in which chul-ns of milk can be carried.
A mechanical elevator, designed particularly for use in connection with the loading of vehicles, will be shown by the One-Man Mechanical Lorry Loader Co., Whittlesford, Cambridge. The power is supplied by a small air: cooled engine, the nleans for lifting being by hydraulic equipment. It is essentially portable, so that it can be brought within range of the vehicle being loaded. The platform rises from ground to lorry-floor level in five seconds.
Singleand two-horse box trailers, and a cattle trailer, will form the main
exhibit of Rice Caravans, Ltd., Portland Works, COsby, hear Leicester: on Stand 333 G. In the case of the twohorse box trailer, the four wheels are close coupled, the trailer riding, in effect, like a two-wheeler. The singlehorse box is similar in general design, but is a two-wheeler, as is the 15-cwt. cattle trailer which will also be shown.
Visitors will have an opportunity of carefully examining the new Land.Rover, which has been designed to provide farmers with a machine that will cover a wide range of duties. Not only can it be used effectively for crosscountry haulage but the power available can•be utilized for driving threshing machines. chaff cutters, and other similar farm equipment. It has a maximum road speed of 50 m.p.h. and a drawbar pull of 1,200 lb.-1,800 lb. Incidentally, this machine can be driven through a stream with no ill effects. It will be shown by the Rover Co., Ltd., Solihull, Birmingham, on Stand 82 B.
Stashay (Ashford), Ltd., Elwick Works, Ashford, Kent, in addition to showing several items of equipment for use in conjunction with the more popular types of tractor, will be featuring its mobile pneumanc crane. Whilst this is not designed for travelling over, or working on, soft ground, it is ideally suited to the lifting and transporting of agricultural implements. So sensitive is the control of the jib that an engine can be lowered into a chassis by its aid. it requires only
10 ft. headroom, and so can be used for passing in and out of the majority of farm buildings. The stand number is 141 C.
A wide range of trailers and semitrailers will be shown by Taskers of Andover (W32), Ltd.,. Andover, Hants., on Stand 268 F. The exhibits will include a 7-8-ton low-loading semitrailer with Austin tractive unit, a 34-ton tractor-Carrying trailer, and two 3-ton tipping trailers specially designed for use on the farm. One will have hydraulic tipping gear, and the other will he of the screw-operated type. Trafalgar Trailers, Ltd., 346, Grand Buildings, Trafalgar Square, London, W.C.2, will be showing a range of trailers on Stand 270 F. Of these, the telescopic tipper will be of particular
interest. It has a capacity of 3 tons and is fitted with manually operated screw-type tipping gear.
Included in the nine Bedford machines to be shown by Vauxhall Motors, Ltd., Luton, on Stand 192 D, will be a doubledeck convertible cattle truck with Spurting body. When used as a single-decker, the floor section of the upper deck becomes the roof. Other exhibits on this stand will comprise the following:-10-12-cwt. van, 10-12-cwt. Utilecon, 30-cwt. drop-sided lorry and 30-cwt. van, 2-3-ton and 5-ton drop-sided trucks, a 5-ton end-tipper, and a Bedford-Scammell 8-t00 articulated vehicle with 18-ft. platform trailer.
An attractive streamlined two-horse box, built on an Austin coach chassis, will be a feature on Sand 416 T, which will be occupied by Vint-ergs or Reading, Ltd., Station Square, Reading. Of imposing appearance, this box also provides accommodation for four or five grooms. A two-horse fourwheeled trailer, designed to be hauled by vehicles from 16 h.p. upwards, will also be exhibited.
A device designed for the quick loading of lorries will be shown by Whitlock Bros., Ltd., Great Yeld-ham, Essex, on Stand 149 C. It is known as the C.P. Lorriloder; a detailed description appears on page 597 in this issue.
Thus, it will be seen that the vehicle and trailer exhibits will be capable of dealing with most of the farmer's transport needs. The makes of vehicle to be shown :are by no means representative of the commercial motor industry, but they are those which are most generally employed by. farmers, as well as being popular with agricultural hauliers,