Avoiding detection
2nd January 2014
Page 8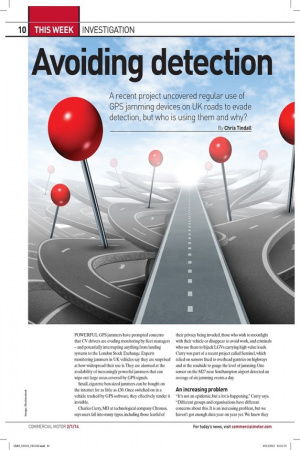 Page 9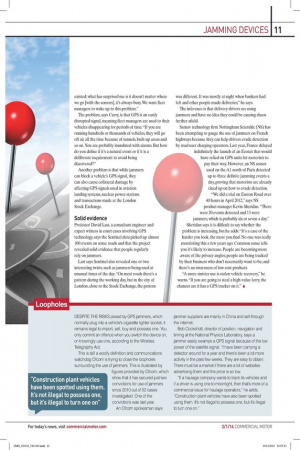 Page 8, 2nd January 2014 —
Avoiding detection
Close
A recent project uncovered regular use of GPS jamming devices on UK roads to evade detection, but who is using them and why? By Chris Tindall
POWERFUL GPS jammers have prompted concerns that CV drivers are evading monitoring by fleet managers — and potentially interrupting anything from landing systems to the London Stock Exchange. Experts monitoring jammers in UK vehicles say they are surprised at how widespread their use is. They are alarmed at the availability of increasingly powerful jammers that can wipe out large areas covered by GPS signals.
Small, cigarette box-sized jammers can be bought on the intemet for as little as £30. Once switched on in a vehicle tracked by GPS software, they effectively render it invisible. Charles Curry, MD at technological company Chronos, says users fall into many types, including those fearful of
their privacy being invaded, those who wish to moonlight with their vehicle or disappear to avoid work, and criminals who use them to hijack LGVs carrying high-value loads. Curry was part of a recent project called Sentinel, which relied on sensors fixed to overhead gantries on highways and at the roadside to gauge the level of jamming. One sensor on the M27 near Southampton airport detected an average of six jamming events a day. An increasing problem "It's not an epidemic, but a lot is happening," Curry says. "Different groups and organisations have different concerns about this. It is an increasing problem, but we haven't got enough data year on year yet. We knew they
existed; what has surprised me is it doesn't matter where we go [with the sensors], it's always busy. We want fleet managers to wake up to this problem." The problem, says Curry, is that GPS is an easily disrupted signal, meaning fleet managers are used to their vehicles disappearing for periods of time. "If you are running hundreds or thousands of vehicles, they will go off air all the time because of tunnels, built-up areas and so on. You are probably inundated with alarms. But how
do you define if it's a natural event or if it is a deliberate requirement to avoid being discovered?" Another problem is that while jammers can block a vehicle's GPS signal, they can also cause collateral damage by
affecting GPS signals used in aviation landing systems, nuclear power stations and transactions made at the London Stock Exchange. Solid evidence
Professor David Last, a consultant engineer and expert witness in court cases involving GPS technology, says the Sentinel data picked up almost 100 events on some roads and that the project revealed solid evidence that people regularly rely on jammers. Last says Sentinel also revealed one or two interesting twists, such as jammers being used at unusual times of the day. "On most roads there's a pattern during the working day, but in the city of London, close to the Stock Exchange, the pattern
was different. It was mostly at night when bankers had left and other people made deliveries," he says.
The inference is that delivery drivers are using jammers and have no idea they could be causing chaos further afield. Satnav technology firm Nottingham Scientific (NS) has been attempting to gauge the use of jammers on French highways because they can help drivers evade detection by road user charging operators. Last year, France delayed indefinitely the launch of an Ecotax that would have relied on GPS units for motorists to pay their way. However, an NS sensor
used on the Al north of Paris detected up to three definite jamming events a day, proving that motorists are already clued up on how to evade detection. "We did a trial on Euston Road over 40 hours in April 2012," says NS product manager Kevin Sheridan. "There
were 20 events detected and 13 were jammers, which is probably six or seven a day."
Sheridan says it is difficult to say whether the problem is increasing, but he adds: "It's a case of the harder you look, the more you find. No one was really monitoring this a few years ago. Common sense tells you it's likely to increase. People are becoming more aware of the privacy angles; people are being tracked by their business who don't necessarily want to be; and there's an awareness of low-cost products. "A more sinister use is stolen vehicle recovery," he warns. "If you are going to steal a high-value lorry, the chances are it has a GPS tracker on it." •
DESPITE THE RISKS posed by GPS jammers, which normally plug into a vehicle's cigarette lighter socket, it remains legal to import, sell, buy and possess one. You only commit an offence when you switch the device on, or knowingly use one, according to the Wireless Telegraphy Act. This is still a woolly definition and communications watchdog Ofcom is trying to close the loopholes surrounding the use of jammers. This is illustrated by
figures provided by Ofcom, which show that it has secured just two convictions for use of jammers since 2010 out of 52 cases investigated. One of the convictions was last year. An Ofcom spokesman says
jammer suppliers are mainly in China and sell through the internet.
Bob Cockshott, director of position, navigation and timing at the National Physics Laboratory, says a jammer easily swamps a GPS signal because of the low power of the satellite signal. "I have been carrying a detector around for a year and there's been a lot more activity in the past few weeks. They are easy to obtain. There must be a market if there are a lot of websites advertising them and the price is so low.
"If a haulage company wants to track its vehicles and if a driver is using one to moonlight, then that's more of a commercial issue for haulage operators," he adds. "Construction plant vehicles have also been spotted using them. It's not illegal to possess one, but it's illegal to turn one on."