Twinkle's light to stop shining
2nd January 2014
Page 5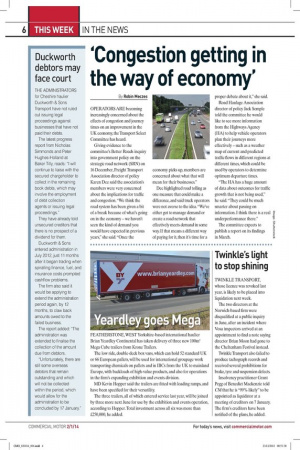 Page 5, 2nd January 2014 —
Twinkle's light to stop shining
Close
TWINKLE TRANSPORT, whose licence was revoked last year, is likely to be placed into liquidation next week.
The two directors at the Norwich-based firm were disqualified at a public inquiry in June, after an incident where Vosa inspectors arrived at an appointment to find a note saying director Brian Moon had gone to the Cheltenham Festival instead.
Twinkle Transport also failed to produce tachograph records and received several prohibitions for brake, tyre and suspension defects.
Insolvency practitioner Grant Pegg of Benedict Mackenzie told CM that he is "99% likely" to be appointed as liquidator at a meeting of creditors on 7 January. The firm's creditors have been notified of the plans, he added.