Duckworth debtors may face court
2nd January 2014
Page 5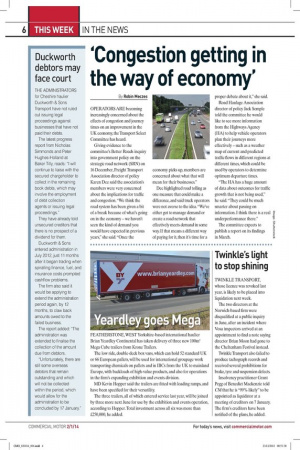 Page 5, 2nd January 2014 —
Duckworth debtors may face court
Close
THE ADMINISTRATORS for Cheshire haulier Duckworth & Sons Transport have not ruled out issuing legal proceedings against businesses that have not paid their debts. The latest progress report from Nicholas Simmonds and Peter Hughes-Holland at Baker Tilly, reads: "I will continue to liaise with the secured chargeholder to collect in the remaining book debts, which may involve the employment of debt collection
agents or issuing legal proceedings."
They have already told unsecured creditors that there is no prospect of a dividend for them.
Duckworth & Sons entered administration in July 2012, just 11 months after it began trading when spiralling finance, fuel, and insurance costs prompted cashf low problems.
The firm also said it would be applying to extend the administration period again, by 12 months, to claw back amounts owed to the failed business.
The report added: "The administration was extended to finalise the collection of the amount due from debtors.
"Unfortunately, there are still some overseas debtors that remain outstanding and which will not be collected within the period, which would allow for the administration to be concluded by 17 January."