'Congestion getting in the way of economy'
2nd January 2014
Page 5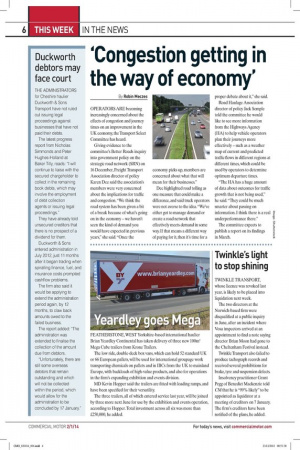 Page 5, 2nd January 2014 —
'Congestion getting in the way of economy'
Close
By Robin Meczes
OPERATORS ARE becoming increasingly concerned about the effects of congestion and journey times on an improvement in the UK economy, the Transport Select Committee has heard. Giving evidence to the committee's Better Roads inquiry into government policy on the strategic road network (SRN) on 16 December, Freight Transport Association director of policy Karen Dee said the association's members were very concerned about the implications for traffic and congestion. "We think the road system has been given a bit of a break because of what's going on in the economy — we haven't seen the kind of demand you would have expected in previous years," she said. "Once the
economy picks up, members are concerned about what that will mean for their businesses." Dee highlighted road tolling as one measure that could make a difference, and said truck operators were not averse to the idea. "We've either got to manage demand or create a road network that effectively meets demand in some way. If that means a different way of paying for it, then it's time for a
proper debate about it," she said.
Road Haulage Association director of policy Jack Semple told the committee he would like to see more information from the Highways Agency (HA) to help vehicle operators plan their journeys more effectively — such as a weather map of current and predicted traffic flows in different regions at different times, which could be used by operators to determine optimum departure times.
"The HA has a huge amount of data about outcomes for traffic growth that is not being used," he said. "They could be much smarter about passing on information I think there is a real 7 underperformance there."
The committee expects to publish a report on its findings in March.