Eight new apprentices at Aquila Trucks with plans for more
2nd January 2014
Page 42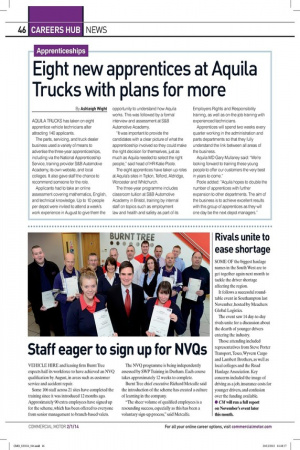 Page 42, 2nd January 2014 —
Eight new apprentices at Aquila Trucks with plans for more
Close
By Ashleigh Wight
AQUILA TRUCKS has taken on eight apprentice vehicle technicians after attracting 140 applicants.
The parts, servicing, and truck dealer business used a variety of means to advertise the three-year apprenticeships, including via the National Apprenticeship Service, training provider S&B Automotive Academy, its own website, and local colleges. It also gave staff the chance to recommend someone for the role. Applicants had to take an online assessment covering mathematics, English, and technical knowledge. Up to 10 people per depot were invited to attend a week's work experience in August to give them the
opportunity to understand how Aquila works. This was followed by a formal interview and assessment at S&B Automotive Academy.
"It was important to provide the candidates with a clear picture of what the apprenticeship involved so they could make the right decision for themselves, just as much as Aquila needed to select the right people," said head of HR Katie Poole.
The eight apprentices have taken up roles at Aquila's sites in Tipton, Telford, Aldridge, Worcester and Whitchurch. The three-year programme includes classroom tuition at S&B Automotive Academy in Bristol, training by internal staff on topics such as employment law and health and safety as part of its
Employers Rights and Responsibility training, as well as on-the-job training with experienced technicians.
Apprentices will spend two weeks every quarter working in the administration and parts departments so that they fully understand the link between all areas of the business.
Aquila MD Gary Mullaney said: "We're looking forward to training these young people to offer our customers the very best in years to come."
Poole added: "Aquila hopes to double the number of apprentices with further expansion to other departments. The aim of the business is to achieve excellent results with this group of apprentices as they will one day be the next depot managers."