An I eco in Paris
2nd January 2014
Page 32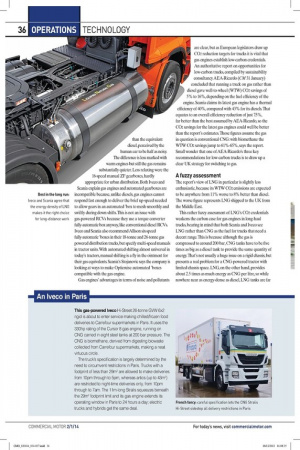 Page 33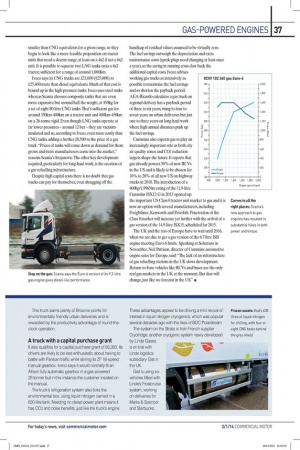 Page 32, 2nd January 2014 —
An I eco in Paris
Close
This gas-powered Iveco Hi-Street 26-tonne GVW 6x2 rigid is about to enter service making chilled/frozen food deliveries to Carrefour supermarkets in Paris. It uses the 330hp rating of the Cursor 8 gas engine, running on CNG carried in eight steel tanks at 200 bar pressure. The CNG is biomethane, derived from digesting biowaste collected from Carrefour supermarkets, making a neat virtuous circle.
The truck's specification is largely determined by the need to circumvent restrictions in Paris. Trucks with a footprint of less than 29m2 are allowed to make deliveries from 10pm through to 5pm, whereas artics (up to 43m2) are restricted to night-time deliveries only, from 10pm through to 7am. The 11m-long Stralis squeezes beneath the 29m2 footprint limit and its gas engine extends its operating window in Paris to 24 hours a day; electric trucks and hybrids get the same deal.
This truck earns plenty of Brownie points for environmentally friendly urban deliveries and is rewarded by the productivity advantage of round-theclock operation. A truck with a capital purchase grant
It also qualifies for a capital purchase grant of £6,350. Its drivers are likely to be less enthusiastic about having to battle with Parisian traffic while stirring its ZF 16-speed manual gearbox. Iveco says it would normally fit an Allison fully automatic gearbox in a gas-powered 26-tonner but in this instance the customer insisted on the manual.
The truck's refrigeration system also ticks the environmental box, using liquid nitrogen carried in a 630-litre tank. Needing no diesel power plant means it has CO2 and noise benefits, just like the truck's engine.
These advantages appear to be driving a mini revival of interest in liquid nitrogen cryogenics, which was popular several decades ago with the likes of BOO Polarstream. The system on the Stralis is from French supplier Cryofridge; another cryogenic system newly developed
by Linde Gases is on trial with Linde logistics subsidiary Gist in the UK.
Gist is using six vehicles fitted with Linde's Frostcruise system, working on deliveries for Marks & Spencer and Starbucks.