SITTING COMFORTABLY: Furniture manufacturer Ercol has replaced its demount fleet
2nd January 2014
Page 3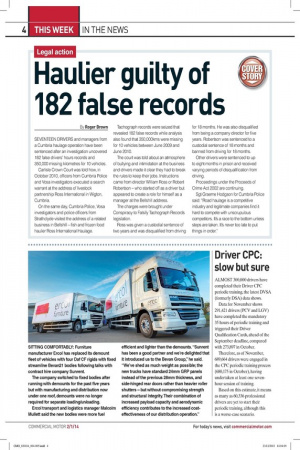 Page 3, 2nd January 2014 —
SITTING COMFORTABLY: Furniture manufacturer Ercol has replaced its demount fleet
Close
of vehicles with four Daf CF rigids with fixed streamline Bevan21 bodies following talks with contract hire company Sunrent.
The company switched to fixed bodies after running with demounts for the past five years but with manufacturing and distribution now under one roof, demounts were no longer required for separate loading/unloading. Ercol transport and logistics manager Malcolm Mullett said the new bodies were more fuel
efficient and lighter than the demounts. "Sunrent has been a good partner and we're delighted that it introduced us to the Bevan Group;' he said. "We've shed as much weight as possible; the new trucks have standard 24mm GRP panels instead of the previous 28mm thickness, and side-hinged rear doors rather than heavier roller shutters — but without compromising strength and structural integrity. Their combination of increased payload capacity and aerodynamic efficiency contributes to the increased costeffectiveness of our distribution operation."