Haulier guilty of 182 false records
2nd January 2014
Page 3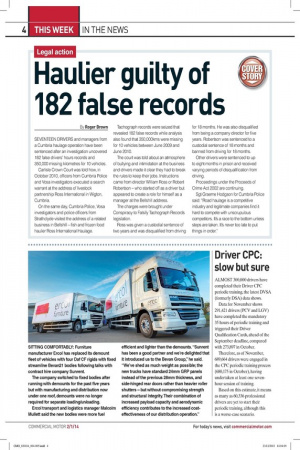 Page 3, 2nd January 2014 —
Haulier guilty of 182 false records
Close
By Roger Brown
SEVENTEEN DRIVERS and managers from a Cumbria haulage operation have been sentenced after an investigation uncovered 182 false drivers' hours records and 350,000 missing kilometres for 10 vehicles.
Carlisle Crown Court was told how, in October 2010, officers from Cumbria Police and Vosa investigators executed a search warrant at the address of livestock partnership Ross International in Wigton, Cumbria.
On the same day, Cumbria Police, Vosa investigators and police officers from Strathclyde visited the address of a related business in Bellshill —fish and frozen food haulier Ross International Haulage.
Tachograph records were seized that revealed 182 false records while analysis also found that 350,000kms were missing for 10 vehicles between June 2009 and June 2010.
The court was told about an atmosphere of bullying and intimidation at the business and drivers made it clear they had to break the rules to keep their jobs. Instructions came from director William Ross or Robert Robertson — who started off as a driver but appeared to create a role for himself as a manager at the Bellshill address.
The charges were brought under Conspiracy to Falsify Tachograph Records legislation. Ross was given a custodial sentence of two years and was disqualified from driving
for 18 months. He was also disqualified from being a company director for five years. Robertson was sentenced to a custodial sentence of 18 months and banned from driving for 18 months.
Other drivers were sentenced to up to eight months in prison and received varying periods of disqualification from driving.
Proceedings under the Proceeds of Crime Act 2002 are continuing.
Sgt Graeme Hodgson for Cumbria Police said: "Road haulage is a competitive industry and legitimate companies find it hard to compete with unscrupulous competitors. It's a race to the bottom unless steps are taken. It's never too late to put things in order."