Arrest
2nd January 2014
Page 18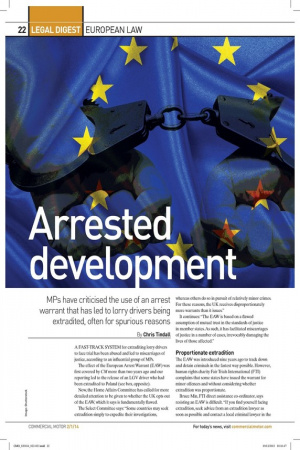 Page 19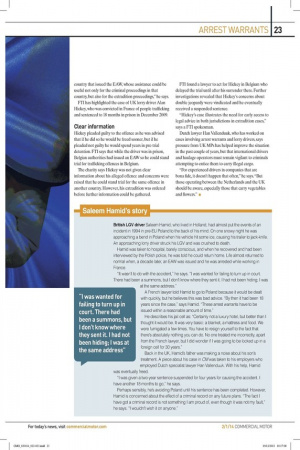 Page 18, 2nd January 2014 —
Arrest
Close
d wet()
MPs have criticised the use of an arrest warrant that has led to lorry drivers being extradited, often for spurious reasons By Chris Tindall
A FAST-TRACK SYSTEM for extraditing lorry drivers to face trial has been abused and led to miscarriages of justice, according to an influential group of 1VIPs.
The effect of the European Arrest Warrant (EAW) was first covered by CM more than two years ago and our reporting led to the release of an LGV driver who had been extradited to Poland (see box, opposite).
No the Home Affairs Committee has called for more detailed attention to be given to whether the UK opts out of the EAW, which it says is fundamentally flawed. The Select Committee says: "Some countries may seek extradition simply to expedite their investigations,
whereas others do so in pursuit of relatively minor crimes. For these reasons, the UK receives disproportionately more warrants than it issues."
It continues: "The EAW is based on a flawed assumption of mutual trust in the standards of justice in member states. As such, it has facilitated miscarriages of justice in a number of cases, irrevocably damaging the lives of those affected." Proportionate extradition
The EAW was introduced nine years ago to track down and detain criminals in the fastest way possible. However, human rights charity Fair Trials International (FTI) complains that some states have issued the warrant for minor offences and without considering whether extradition was proportionate. Bruce Min, FTI direct assistance co-ordinator, says resisting an EAW is difficult. "If you find yourself facing extradition, seek advice from an extradition lawyer as soon as possible and contact a local criminal lawyer in the
country that issued the EAW, whose assistance could be useful not only for the criminal proceedings in that country, but also for the extradition proceedings," he says.
FTI has highlighted the case of UK lorry driver Alan Hickey, who was convicted in France of people trafficking and sentenced to 18 months in prison in December 2009. Clear information
Hickey pleaded guilty to the offence as he was advised that if he did so he would be freed sooner, but if he pleaded not guilty he would spend years in pre-trial detention. FTI says that while the driver was in prison, Belgian authorities had issued an EAW so he could stand trial for trafficking offences in Belgium.
The charity says Hickey was not given clear information about his alleged offence and concerns were raised that he could stand trial for the same offence in another country. However, his extradition was ordered before further information could be gathered.
FTI found a lawyer to act for Hickey in Belgium who delayed the trial until after his surrender there. Further investigations revealed that Hickey's concerns about double jeopardy were vindicated and he eventually received a suspended sentence.
"Hickey's case illustrates the need for early access to legal advice in both jurisdictions in extradition cases," says a FTI spokesman.
Dutch lawyer Han Vallenduuk, who has worked on cases involving arrest warrants and lorry drivers, says pressure from UK MPs has helped improve the situation in the past couple of years, but that international drivers and haulage operators must remain vigilant to criminals attempting to entice them to carry illegal cargo. "For experienced drivers in companies that are bona fide, it doesn't happen that often," he says. "But those operating between the Netherlands and the UK should be aware, especially those that carry vegetables and flowers." •
Saleem Hamid' s sior
British LGV driver Saleem Hamid, who lived in Holland, had almost put the events of an incident in 1994 in pre-EU Poland to the back of his mind. On one snowy night he was approaching a bend in Poland when his vehicle hit some ice, causing his trailer to jack-knife. An approaching lorry driver struck his LGV and was crushed to death.
Hamid was taken to hospital, barely conscious, and when he recovered and had been interviewed by the Polish police, he was told he could return home. Life almost returned to normal when, a decade later, an EAW was issued and he was arrested while working in France. "It wasn't to do with the accident," he says. "I was wanted for failing to turn up in court. There had been a summons, but I don't know where they sent it. I had not been hiding; I was
at the same address."
A French lawyer told Hamid to go to Poland because it would be dealt with quickly, but he believes this was bad advice. "By then it had been 18 years since the case," says Hamid. "These arrest warrants have to be issued within a reasonable amount of time."
He describes his jail cell as: "Certainly not a luxury hotel, but better than I thought it would be. It was very basic: a blanket, a mattress and food. We were fumigated a few times. You have to resign yourself to the fact that there's absolutely nothing you can do. No one treated me incorrectly, apart from the French lawyer, but I did wonder if I was going to be locked up in a foreign cell for 30 years." Back in the UK, Hamid's father was making a noise about his son's treatment. A piece about his case in CM was taken to his employers who
employed Dutch specialist lawyer Han Vallenduuk. With his help, Hamid was eventually freed.
"I was given a two-year sentence suspended for four years for causing the accident. I have another 18 months to go," he says.
Perhaps sensibly, he's avoiding Poland until his sentence has been completed. However, Hamid is concerned about the effect of a criminal record on any future plans. "The fact I have got a criminal record is not something I am proud of, even though it was not my fault," he says. "I wouldn't wish it on anyone."