Prison for driver with cash bundles hidden in truck cab
2nd January 2014
Page 16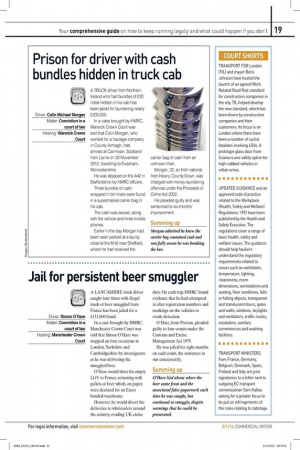 Page 16, 2nd January 2014 —
Prison for driver with cash bundles hidden in truck cab
Close
A TRUCK driver from Northern Ireland who had bundles of £20 notes hidden in his cab has been jailed for laundering nearly £200,000. In a case brought by HMRC, Warwick Crown Court was told that Colin Morgan, who worked for a haulage company in County Armagh, had
arrived at Cairnryan, Scotland from Larne on 30 November 2012, travelling to Evesham, Worcestershire.
He was stopped on the A42 in Staffordshire by HMRC officers.
Three bundles of cash wrapped in bin liners were found in a supermarket carrier bag in his cab.
The cash was seized, along with the vehicle and three mobile phones. Earlier in the day Morgan had been seen parked at a lay-by close to the M18 near Sheffield, where he had received the
carrier bag of cash from an unknown man.
Morgan, 32, an Irish national from Newry, County Down, was charged with money laundering offences under the Proceeds of Crime Act 2002.
He pleaded guilty and was sentenced to six months' imprisonment. Summing up
Morgan admitted he knew the carrier bag contained cash and was fully aware he was breaking the law.