COURT SHORTS
2nd January 2014
Page 16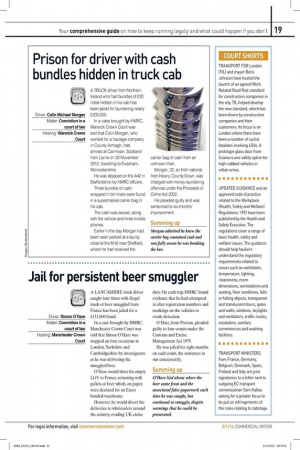 Page 16, 2nd January 2014 —
COURT SHORTS
Close
TRANSPORT FOR London (T1L) and mayor Boris Johnson have hosted the launch of an agreed Work Related Road Risk standard for construction companies in the city. TIL helped develop the new standard, which has been driven by construction companies and their customers. Its focus is on London where there have been a number of cyclist fatalities involving LGVs. A prototype glass door from Scania is one safety option for high-cabbed vehicles in urban areas.
UPDATED GUIDANCE and an approved code of practice related to the Workplace (Health, Safety and Welfare) Regulations 1992 have been published by the Health and Safety Executive. The regulations cover a range of basic health, safety and welfare issues. The guidance should help hauliers understand the regulatory requirements related to issues such as ventilation, temperature, lighting, cleanliness, room dimensions, workstations and seating, floor conditions, fads or falling objects, transparent and translucent doors, gates and wads, windows, skylights and ventilators, traffic routes, escalators, sanitary conveniences and washing facilities.
TRANSPORT MINISTERS from France, Germany, Belgium, Denmark, Spain, Finland and Italy are joint signatories to a letter sent to outgoing EC transport commissioner Siim Kallas asking for a greater focus to be put on infringements of the rules relating to cabotage.