Q We were interested to read CM's report on the
2nd January 1970
Page 47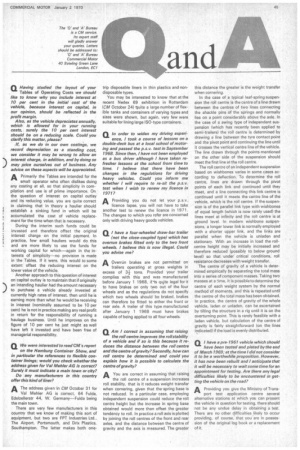 Page 47, 2nd January 1970 —
Q We were interested to read CM's report on the
Close
Hamburg Container Show, and in particular the references to flexible container linings; would you check whether the address given for Val Mehler AG is correct? Surely it must indicate a main town or city? Do any manufacturers in this country offer this kind of liner?
AThe address given in CM October 31 for Val Mehler AG is correct, 64 Fulda, Edelzellerstr 44. W. Germany—Fulda being the main town.
There are very few manufacturers in this country that we know of making this sort of equipment, but two are FPIIndustries Ltd., The Airport. Portsmouth, and Drix Plastics. Southampton. The latter makes both one
trip disposable liners in thin plastics and nondisposable types.
You may be interested to know that al the recent Nedex 59 exhibition in Rotterdam (CM October 241 quite a large number of flexible tanks and containers of varying types and sizes were shown, but again, very few were suitable for lining large ISO-type containers,