• I have a four-wheeled draw-bar trailer
2nd January 1970
Page 47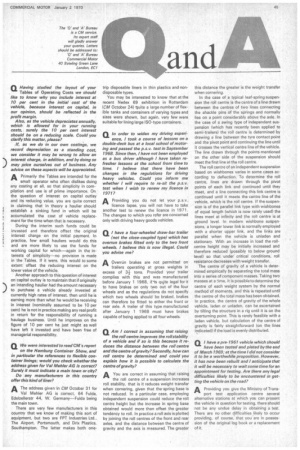 Page 47, 2nd January 1970 —
• I have a four-wheeled draw-bar trailer
Close
( not the close-coupled type) which has overrun brakes fitted only to the two front wheels. I believe this is now illegal. Could you advise me?
AOverrun brakes are not permitted on
trailers operating at gross weights in excess of 3-I tons. Provided your trailer complies with this and was manufactured before January 1 1968, if •is qu,ite legal for it to have brakes on only two out of the four wheels and as the regulations do not specify which two wheels should be braked, brakes can therefore be fitted to either the front or rear axle. A trailer of this type manufactured after January 1 1968 must have brakes capable of being applied to all four wheels.