bird's eye view
2nd January 1970
Page 41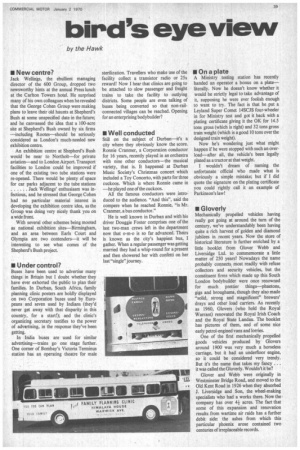 Page 41, 2nd January 1970 —
bird's eye view
Close
by the Hawk
• New centre?
Jack Wellings, the ebullient managing director of the 600 Group, dropped two newsworthy hints at the annual Press lunch at the Carlton Towers hotel. He surprised many of his own colleagues when he revealed that the George Cohen Group were making plans to leave their old haunts at Shepherd's Bush at some unspecified date in the future; and he canvassed the idea that a 100-acre site at Shepherd's Bush owned by six firms —including Rootes—should be seriously considered as London's much-needed new exhibition centre.
An exhibition centre at Shepherd's Bush would be near to Northolt—for private aviation—and to London Airport. Transport facilities to London could be improved if one of the existing two tube stations were re-opened. There would be plenty of space for car parks adjacent to the tube stations
.. Jack Wellings' enthusiasm was infectious, and he stressed that George Cohen had no particular material interest in developing the exhibition centre idea, as the Group was doing very nicely thank you on a wide front.
With several other schemes being mooted as national exhibition sites—Birmingham, and an area between Earls Court and Olympia are two contenders—it will be interesting to see what comes of the Shepherd's Bush project.
• Under control?
Buses have been used to advertise many things in Britain but I doubt whether they have ever exhorted the public to plan their families. In Durban, South Africa, family planning clinic posters are boldly displayed on two Corporation buses used by Europeans and seven used by Indians (they'd never get away with that disparity in this country. for a start!); and the clinic's organizing secretary testifies to the power of advertising, in the response they've been getting.
In India buses are used for similar advertising—trains go one stage further. One corner of Bombay's Victoria Terminus station has an operating theatre for male
sterilization. Travellers who make use of the facility collect a transistor radio or 25s reward! Now I hear that clinics are going to be attached to slow passenger and freight trains to take the facility to outlying districts. Some people are even talking of buses being converted so that non-railconnected villages can be reached. Opening for an enterprising bodybuilder?
• Well conducted
Still on the subject of Durban it's a city where they obviously know the score. Ronnie Cranmer, a Corporation conductor for 16 years, recently played in an orchestra with nine other conductors—the musical variety, that is. It happened at Durban Music Society's Christmas concert which included a Toy Concerto, with parts for three cuckoos. Which is where Ronnie came in —he played one of the cuckoos.
All the famous conductors were introduced to the audience. "And this", said the compere when he reached Ronnie, "is Mr. Cranmer, a bus conductor."
He is well known in Durban and with his driver Douggie Foster comprises one of the last two-man crews left in the department now that o-m-o is so far advanced. Theirs is known as the city's happiest bus, I gather. When a regular passenger was getting married they had a whip-round for a present and then showered her with confetti on her last "single" journey.
• On a plate
A Ministry testing station has recently handed an operator a bonus on a plate— literally. Now he doesn't know whether it would be strictly legal to take advantage of it, supposing he were ever foolish enough to want to try. The fact is that he put a Leyland Super Comet 14SCJS four-wheeler in for Ministry test and got it back with a plating certificate giving it the OK for 14.5 tons gross (which is right) and 32 tons gross train weight (which is a good 10 tons over the designed train weight).
Now he's wondering just what might happen if he were stopped with such an overload—after all, the vehicle's been legally plated as a tractor at that weight.
I wouldn't dream of naming the unfortunate official who made what is obviously a simple mistake; but if I did quote the signature on the plating certificate you could rightly call it an example of Parkinson's law!
• Gloverly
Mechanically propelled vehicles having really got going at around the turn of the century, we've understandably been having quite a rich harvest of golden and diamond jubilees in recent years. Now the store of historical literature is further enriched by a little booklet from Glover Webb and Livers idge Ltd. to commemorate a little matter of 250 years! Nowadays the name probably connects most readily with refuse collectors and security vehicles, but the constituent firms which made up this South London bodybuilder were once renowned for much prettier things—phaetons, gigs and broughams, though they also made "solid, strong and magnificent" brewers' drays and other load carriers. As recently as 1960, Glovers (who hold the Royal Warrant) renovated the Royal Irish Coach and the Royal State Landau. The booklet has pictures of them, and of some nice early petrol-engined vans and lorries.
One of the first mechanically propelled goods vehicles produced by Glovers around 1900 was very much a horseless carriage, but it had an underfloor engine, so it could be considered very trendy. But it's the name that takes my fancy .
it was called the Gloverly. Wouldn't it be?
Glover and Webb were originally in Westminster Bridge Road, and moved to the Old Kent Road in 1926 when they absorbed J. Liversidge and Son, the wheel-making specialists who had a works there. Now the company has over 4+ acres. The fact that some of this expansion and renovation results from wartime air raids has a further debit side: the ashes from which this particular phoenix arose contained two centuries of irreplaceable records.