insurance
2nd January 1970
Page 38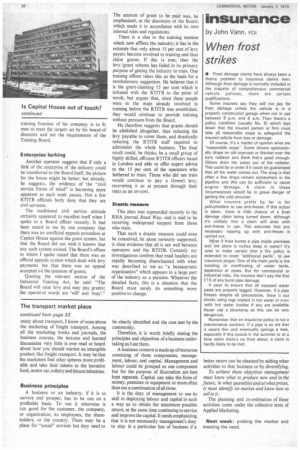 Page 38, 2nd January 1970 —
insurance
Close
Keywords :
Types Of Insurance
,
Investment
,
Financial Institutions
,
Financial Economics
,
Institutional Investors
,
Insurance
,
Economics
,
Radiator
,
Frost
,
Risk Purchasing Group
,
Property Insurance
by John Vann, FCII
When frost strikes
• Frost damage claims have always been a thorny problem to insurance claims men. Although frost damage is normally included in the majority of comprehensive commercial vehicle policies, there are certain qualifications.
Some insurers say they will not pay for frost damage unless the vehicle is in a properly constructed garage when not in use between 9 p.m. and 6 a.m. Then there's a policy condition (usually No. 5) which lays down that the insured person or firm must take all reasonable steps to safeguard the insured vehicle from loss or damage.
Of course, it's a matter of opinion what are "reasonable steps". Some drivers optimistically drape an old overcoat or blanket over the lorry radiator and think that's good enough. Others drain the water out of the radiator. This could be in order if it could be guaranteed that all the water comes out. The snag is that often a few drops remain somewhere in the pipeline and this can be sufficient to cause engine damage. A claim in these circumstances would be in grave danger of getting the cold shoulder.
What insurers prefer by far is for policyholders to use anti-freeze. If this action is taken, there is little chance of a frost damage claim being turned down, although it's unlikely that a claim will arise with anti-freeze in use. This assumes that any necessary topping up with anti-freeze is carried out.
What if frost bursts a pipe inside premises and the place is inches deep in water? It's wise to make certain that a fire policy is extended to cover "additional perils", to use insurance jargon One of the main perils is the bursting or overflowing of water tanks, apparatus or pipes. But for commercial or industrial risks, the insurers don't pay the first £15 of any burst pipe damage.
It pays to ensure that all exposed water pipes are properly lagged. However, if a pipe freezes despite all precautions, thaw it out slowly using rags soaked in hot water or even with hot water bottles if any are available. Never use a blowlamp as this can be very dangerous.
Remember that an insurance policy is not a maintenance contract. If a pipe is so old that it wears thin and eventually springs a leak, especially if this occurs in the summer or at a time when there's no frost about, a claim is hardly likely to be met.