Proved ability
2nd January 1970
Page 30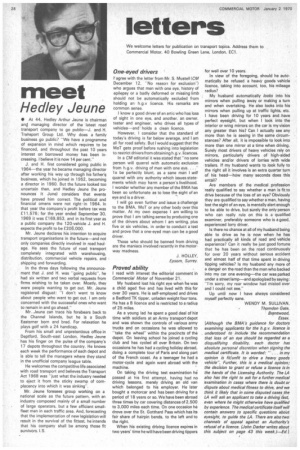 Page 30, 2nd January 1970 —
Proved ability
Close
I read with interest the editorial comment in Commercial Motor of November 21.
My husband lost his right eye when he was a child aged five and has lived with this for over 30 years. He is self-employed and drives a Bedford TK tipper. unladen weight four tons. He has a B licence and is restricted to a radius of 25 miles.
As a young lad he spent a good deal of his time with soldiers at an Army transport depot and was shown the controls of various army trucks and on occasions he was allowed to "take the wheel" within the precincts of the depot. On leaving school he joined a cycling club and has cycled all over Britain. On two occasions he has had a cycling holiday abroad, doing a complete tour of Paris and along part of the French coast. As a teenager he had a motor-cycle and again went abroad with the machine.
On taking the driving test examination he passed at his first attempt, having had no driving lessons, merely driving an old van which belonged to his employer. He later bought a motorcar and has been driving for a period of 18 years or so. We have been abroad three times by car covering distances of 2,500 to 3,000 miles each time. On one occasion he drove over the St. Gotthard Pass which has its fair share of hairpin bends, to the left and to the right.
When his existing driving licence expires in two years' time he will have been driving tippers