One-eyed drivers
2nd January 1970
Page 30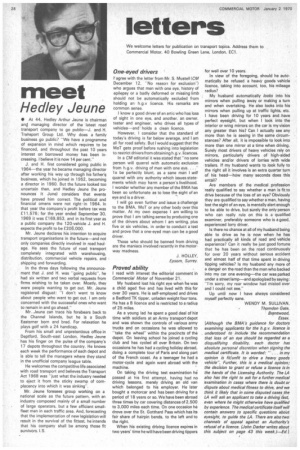 Page 30, 2nd January 1970 —
One-eyed drivers
Close
I agree with the letter from Mr. S. Mustell (CM December 12, "No reason for exclusion-) who argues that men with one eye. history of epilepsy or a badly deformed or missing limb should not be automatically excluded from holding an h.g.v i cence. His remarks are common sense.
I know a good driver of an artic who has loss of sight in one eye, and another, an owner, tester and engineer, who drives all types of vehicles—and holds a clean licence.
However, I consider that the standard of today's driving is far below average, and I am all for road safety. But I would suggest that the MoT gets proof before rushing into legislation to restrict drivers from obtaining h.g.v. licences.
In a CM editorial it was stated that "no sane person will quarrel with automatic exclusion from h.g.v. driving of men with one eye.
To be perfectly blunt, as a sane man I will quarrel with any authority which issues statements which may harm a person's livelihood. I wonder whether any member of the BMA has been so unfortunate as to lose the sight of an eye and is a driver.
I will go even further and issue a challenge to the BMA. MoT or any other body over this matter. At my own expense I am willing to prove that I am talking sense by producing one of the drivers about whom I am writing, plus five or six vehicles, in order to conduct a test and prove that a one-eyed man can be a good driver.
Those who should be banned from driving are the maniacs involved recently in the motorway madness.
J. HOLLEY, Epsom, Surrey.