meet
2nd January 1970
Page 30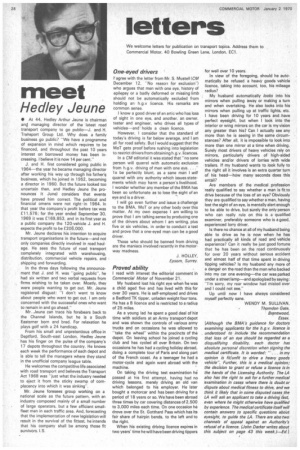 Page 30, 2nd January 1970 —
meet
Close
Hedley Jeune
• At 44, Hedley Arthur Jeune is chairman an managing director of the latest road transport company to go public—J. and H. Transport Group Ltd. Why does a family business go public? "We have a programme of expansion in mind which requires to be financed, and throughout the past 10 years interest on borrowed money has been increasing. I believe it is now 14 percent.'
J. and H. first considered going public in 1964—the year he became managing director after working his way up through his father's business, which he joined in 1952, becoming a director in 1960. But the future looked too uncertain then, and Hedley Jeune (he pronounces it June) considers that events have proved him correct. The political and financial omens were not right in 1964. In that year the company's profit before tax was £11,576; for the year ended September 30, 1969 it was E169,853, and in its first year as a public company the 120-vehicle J. and H. expects the profit to be £205.000.
Mr. Jeune declares his intention to acquire transport organizations in the future—and not only companies directly involved in road haulage. He sees the future of road transport completely integrated with warehousing, distribution, commercial vehicle repairs, and shipping and forwarding.
In the three days following the announcement that J. and H. was -going public", he had six written and two verbal requests from firms wishing to be taken over. Mostly, they were people wanting to get out. Mr. Jeune registered disgust: -I don't want to know about people who want to get out. I am only concerned with the successful ones who want to remain in and go ahead,
Mr. Jeune can trace his forebears back to the Channel Islands, but he is a South Easterner born and bred. For relaxation he plays golf with a 24 handicap.
From his small and unpretentious office in Deptford. South-east London, Hedley Jeune has his finger on the pulse of the company's 17 depots throughout the country. He knows each week the performance of each depot and is able to tell the managers where they stand in the unofficial company league table.
He welcomes the competitive life associated with road transport and believes the Transport Act 1968 was "just what the industry needed to eject it from the sticky swamp of complacency into which it was sinking".
Mr. Jeune foresees group working on a national scale as the future pattern, with an industry composed mainly of a small number of large operators, but a few efficient smallfleet men in each traffic area. And, forecasting that the implementation of new legislation will result in the survival of the fittest, he intends that his company shall be among those fit survivors. IS.