for well over 10 years.
2nd January 1970
Page 30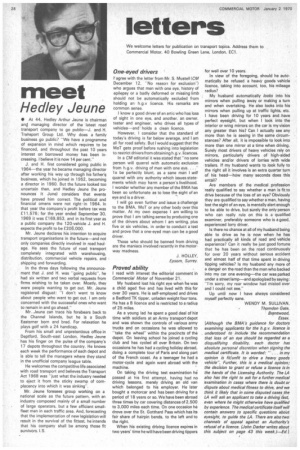 Page 30, 2nd January 1970 —
for well over 10 years.
Close
In view of the foregoing, should he automatically be refused a heavy goods vehicle licence, taking into account, too, his mileage radius?
My husband automatically looks into his mirrors when pulling away or making a turn and when overtaking. He also looks into his mirrors when pulling up at traffic lights, etc. I have been driving for 10 years and have perfect eyesight, but when I look into the interior or wing mirrors on the car is my vision any greater than his? Can I actually see any more than he is seeing in the same circumstances? After all, it is impossible to look into more than one mirror at a time when driving. Surely most drivers of heavy vehicles rely on mirrors, particularly drivers of high-sided vehicles and/or drivers of lorries with wide trailers. If my husband wants to look fully to the right all it involves is an extra quarter turn of his head—how many seconds does this entail?
Are members of the medical profession really qualified to say whether a man is fit to drive because of the loss of an eye? Obviously they are qualified to say whether a man, having lost the sight of an eye, is mentally alert enough to be able to drive, but surely the only person who can really rule on this is a qualified examiner, preferably someone who is a good, experienced lorry driver.
Is there no chance at all of my husband being able to drive as he is now when he has had practically all kinds of road and vehicle experience? Can it really be just good fortune that he has been on the road continuously for over 20 years without serious accident and almost half of that time spent in driving tipping vehicles? Is my husband any more of a danger on the road than the man who backed into my car one evening—the car was parked under a street lamp—and apologized by saying: "I'm sorry, my rear window had misted over and I could not see."
Up until now I have always considered myself perfectly sane.
WENDY M. SULLIVAN, Thorndon Gate, Brentwood, Essex. [Although the BMA's guidance for doctors examining applicants for the h.g.v. licence is understood to include the recommendation that loss of an eye should be regarded as a disqualifying disability, each doctor has absolute personal discretion when signing the medical certificate, it is worded: " . . . in my opinion is fit/unfit to drive a heavy goods vehicle". Further, this is a medical opinion,. the decision to grant or refuse a licence is in the hands of the Licensing Authority. The LA also has the right to ask for a further medical examination in cases where there is doubt or dispute about medical fitness to drive, and we think it likely that in some disputed cases ,the LA will ask an applicant to take a driving test, even where he might otherwise have qualified by experience. The medical certificate itself will contain answers to specific questions about eyesight, to guide the LA. There are also two channels of appeal against an Authority's refusal of a licence. (John Darker writes about this subject on page 43 this week.)—Ed.]