Tough wrecker on excavator chassis
2nd January 1970
Page 28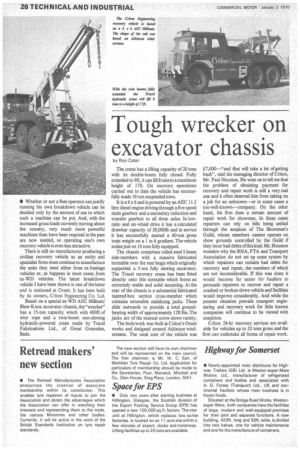 Page 28, 2nd January 1970 —
Tough wrecker on excavator chassis
Close
by Ron Cater • Whether or not a fleet operator can justify running his own breakdown vehicle can be decided only by the amount of use to which such a machine can be put. And, with the increased gross loads currently moving about the country, very much more powerful machines than have been required in the past are now needed, so operating one's own recovery vehicle is even less attractive.
There is still no manufacturer producing a civilian recovery vehicle as an entity and specialist firms must continue to manufacture the units they need either from ex-haulage vehicles or, as happens in most cases, from ex-WD vehicles. The latest breakdown vehicle I have been shown is one of the latter and is stationed at Orsett. It has been built by its owners, Criton Engineering Co. Ltd.
Based on a special ex-WD AEC Militant! Blaw-Knox excavator chassis, the "wrecker" has a 15-ton capacity winch with 400ft. of wire rope and a twin-boom non-slewing hydraulic-powered crane made by Trace! Fabrications Ltd., of Great Gransden, Beds. The crane has a lifting capacity of 20 tons with its double-boom fully closed. Fully extended to 8ft, it can lift 8 tons to a maximum height of 17ft. On recovery operations carried out to date the vehicle has successfully made 18-ton suspended tows.
It is a 6 x 6 and is powered by an AEC 113 litre diesel engine driving through a five-speed main gearbox and a secondary reduction and transfer gearbox to all three axles. In lowratio and six-wheel drive it has a calculated drawbar capacity of 20,000lb and in service it has successfully started a 40-ton gross train weight on a 1 in 6 gradient. The vehicle scales just on 16 tons fully equipped.
The chassis comprises rolled-steel I-beam side-members with a massive fabricated turntable over the rear bogie which originally supported a 5-ton fully slewing excavator. The Tracel recovery crane has been fitted directly onto this turntable which forms an extremely stable and solid mounting. At the rear of the chassis is a substantial fabricated tapered-box section cross-member which contains extensible stabilizing jacks. These slide outwards to provide a total groundbearing width of approximately 12ft 8in. The jacks are of the manual screw-down variety.
The bodywork was built at Criton's Orsett works and designed around Atkinson windscreens. The total cost of the vehicle was £7,000—"and that will take a lot of getting back", said the managing director of Criton, Mr. Paul Houston. He went on to tell me that the problem of obtaining payment for recovery and repair work is still a very real one and it often deterred him from taking on a job for an unknown—or in some cases a too-well-known—company. On the other hand, his firm does a certain amount of repair work for showmen. In these cases repairers can rely on bills being settled through the auspices of The Showmen's Guild, whose members cannot operate on show grounds controlled by the Guild if they incur bad debts ofthis kind.Mr. Houston wonders why the RHA, FTA and Transport Association do not set up some system by which repairers can reclaim bad debts for recovery and repair, the numbers of which are not inconsiderable. If this was done it would become far easier for hauliers to persuade repairers to recover and repair a crashed or broken-down vehicle and facilities would improve considerably. And while the present situation prevails transport engineering and recovery work for little known companies will continue to be viewed with suspicion.
Criton 24-hr recovery services are available for vehicles up to 32 tons gross and the firm can undertake all forms of repair work.