Grant to 'illegal' operator upheld
2nd January 1970
Page 26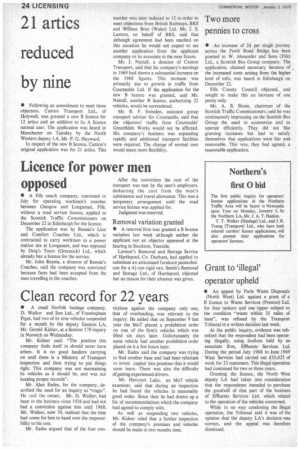 Page 26, 2nd January 1970 —
Grant to 'illegal' operator upheld
Close
• An appeal by Pude Waste Disposals (North West) Ltd. against a grant of a B licence to Waste Services (Preston) Ltd. for four tankers and one tipper subject to the condition "waste within 35 miles of base", was refused by the Transport Tribunal in a written decision last week.
At the public inquiry, evidence was submitted that the respondent had been operating illegally, using liceikes held by an associate firm, Effluents Services Ltd. During the period July 1968 to June 1969 Wast Services had carried out £35,425 of work for 23 customers. This illegal operation had Continued for two or three years.
Granting the licence, the North West deputy LA had taken into consideration that the respondents intended to purchase the goodwill of that part of the business of Effluents Services Ltd. which related to the operation of the vehicles concerned.
While in no way condoning the illegal operation, the Tribunal said it was of the opinion that the deputy LA's decision was correct, and the appeal was therefore dismissed.