Clean record for 22 years
2nd January 1970
Page 26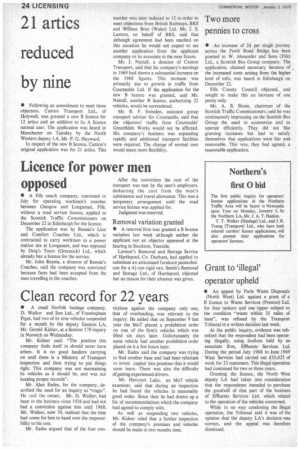 Page 26, 2nd January 1970 —
Clean record for 22 years
Close
• A small Norfolk haulage company, D. Walker and Son Ltd., of Framingham Pigot, had two of its nine vehicles suspended for a month by the deputy Eastern LA, Mr. Gerald Kidner, at a Section 178 inquiry in Norwich on Wednesday.
Mr. Kidner said: "The position this company finds itself in should never have arisen. It is no good hauliers carrying on until there is a Ministry of Transport inspection and then trying to put things right. This company was not maintaining its vehicles as it should be, and was not keeping proper records".
Mr. Alan Eades, for the company, described the need for an inquiry as "tragic". He said the owner, Mr. D. Walker, had been in the business since 1926 and had not had a conviction against him until 1968. Mr. Walker, now 70, realized that the time had come for him to hand over the responsibility to his son.
Mr. Eades argued that of the four con
victions against the company only one, that of overloading, was relevant to the inquiry. He added that on September 9 last year the MoT placed a prohibition order on one of the firm's vehicles which was lifted six days later. Unfortunately the same vehicle had another prohibition order placed on it a few hours later.
Mr. Eades said the company was trying to find another base and had been reluctant to invest capital into premises that it would soon leave. There was also the difficulty of getting experienced drivers.
Mr. Harcourt Lake, an MoT vehicle examiner, said that during an inspection he had found the vehicles in reasonably good order. Since then he had drawn up a list of recommendations which the company had agreed to comply with.
As well as suspending two vehicles, Mr. Kidner ruled that a further inspection of the company's premises and vehicles should be made in two months time.