21 artics reduced by nine
2nd January 1970
Page 26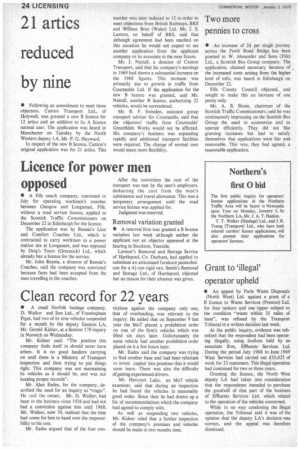 Page 26, 2nd January 1970 —
21 artics reduced by nine
Close
• Following an amendment to meet three objectors, Canton Transport Ltd., of Holywell, was granted a new B licence for 12 artics and an addition to its A licence normal user. The application was heard in Manchester on Tuesday by the North Western deputy LA, Mr. P. G. Hayward.
In respect of the new B licence, Canton's original. application was for 21 artics. This
number was later reduced to 12 in order to meet objections from British Railways, BRS and William Bros (Wales) Ltd. Mr. J. S. Lawton, on behalf of BRS, said that although agreement had been reached on this occasion he would not expect to see another application from the applicant company or its associate in the near future.
Mr. J. Nuttall, a director of Canton Transport, said that his company's earnings in 1969 had shown a substantial increase on the 1968 figures. This increase was primarily due to growth in traffic from Courtaulds Ltd. If the application for the new B licence was granted, said Mr. Nuttall, another B licence, authorizing 22 vehicles, would be surrendered.
Mr. B. F. Swinden, assistant group transport adviser for Courtaulds, said that the objectors' traffic from Courtaulds' Greenflelds Works would not be affected. His company's business was expanding rapidly and additional transport facilities were required. The change of normal user would mean more flexibility.