RHA co-ordinator
2nd January 1970
Page 25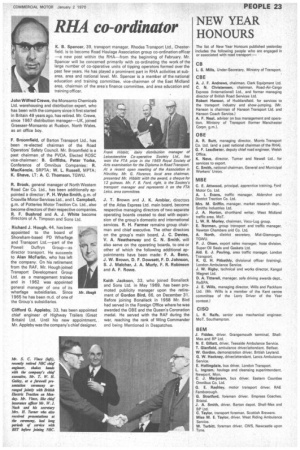 Page 25, 2nd January 1970 —
RHA co-ordinator
Close
K. B. Spencer, 39, transport manager. Rhodes Transport Ltd.. Chesterfield. is to become Road Haulage Association group co-ordination officer —a new post within the RHA— -from the beginning of February. Mr. Spencer will be concerned primarily with co-ordinating the work of the large number of co-operative units of tipping operators formed over the past few years. He has played a prominent part in RHA activities at subarea, area and national level. Mr. Spencer is a member of the national education and training committee, vice-chairman of the East Midland area, chairman of the area's finance committee, and area education and training officer.
John Wilfred Crewe, the Monsanto Chemicals Ltd. warehousing and distribution expert, who has been with the company since it first started in Britain 49 years ago, has retired. Mr. Crewe, since 1967 distribution manager—UK, joined Graesser-Monsanto at Ruabon, North Wales, as an office boy.
F. Broomfield, of Barton Transport Ltd., has been re-elected chairman of the Road Operators' Safety Council. Mr. Broomfield is a past chairman of the PVOA. Elected ROSC vice-chairmen: B. Griffiths, Peter Yorke, Conference of Omnibus Companies; R. MacKenzie, SRPTA: W. L. Russell, MPTA; K. Shave, LT; A. C. Thomson, TGWU.
R. Brook, general manager of North Western Road Car Co. Ltd., has been additionally appointed a director: P. H. Wyke Smith, g.m. of Crosville Motor Services Ltd., and I. Campbell, g.m. of Potteries Motor Traction Co. Ltd., also become directors of their respective companies. R. F. Bushrod and A. J. White become directors of A. Timpson and Sons Ltd.
Richard J. Hough, 44, has been appointed to the board of Shoreham-based PD Wharfage and Transport Ltd.—part of the Powell Duffryn Group—as director transport. He succeeds to Alan McFarlin, who has left the company. On his retirement from the RAF, Mr. Hough joined Transport Development Group Ltd. as a management trainee and in 1962 was appointed general manager of one of its wharfage subsidiaries. Since Mr. Hough 1965 he has been m.d. of one of
the Group's subsidiaries.
Clifford G. Appleby, 33, has been appointed chief engineer of Highway Trailers (Great Britain) Ltd. Until his new appointment, Mr. Appleby was the company's chief designer.
Frank Hibbitt. daily distribution manager of Leicestershire Co-operative Society Ltd., has won the FTA prim in the 1969 Royal Society of Arts examination for the Diploma in Road Transport, At a recent open meeting of the Association in Hinckley, Mr, G. Florence. local area chairman, presented Mr. Hibbitt with the award, a Cheque for 12 guineas. Mr. F. B. Ford, right, is the Society's transport manager and represents it on the FTA Leics, area committee.
J. T. Brown and J. K. Ambler, directors of the Atlas Express Ltd. main board, become respective managing directors of two separate operating boards created to deal with expansion of the group's domestic and international services. R. H. Farmer remains group chairman and chief executive. The other directors on the group's main board, J. C. Davies, V. A. Neatherway and C. N. Smith. will also serve on the operating boards, to one or other of which the following additional appointments have been made: F. A. Bann. J. W. Brown, D. F. Dowsett, F. D. Johnson, S. J. Malchar, J. A. Murly, F. R. Robinson and A. F. Rowe.
Keith Jackson, 33, who joined Bonallack and Sons Ltd. in May 1969, has been promoted publicity manager upon the retirement of Gordon Bird, 66, on December 31. Before joining Bonallack in 1958 Mr. Bird had served in the Foreign Office where he was awarded the OBE and the Queen's Coronation medal. He served with the RAF during the war, reaching the rank of Wing Commander and being Mentioned in Despatches.
Tags
People
:
Gordon Bird
,
Richard J. Hough
,
F. B. Ford
,
Clifford G. Appleby
,
Frank Hibbitt
,
Peter Yorke
,
F. Broomfield
,
R. Brook
,
John Wilfred Crewe
,
K. B. Spencer
,
J. C. Davies , V
,
Keith Jackson
,
Alan McFarlin